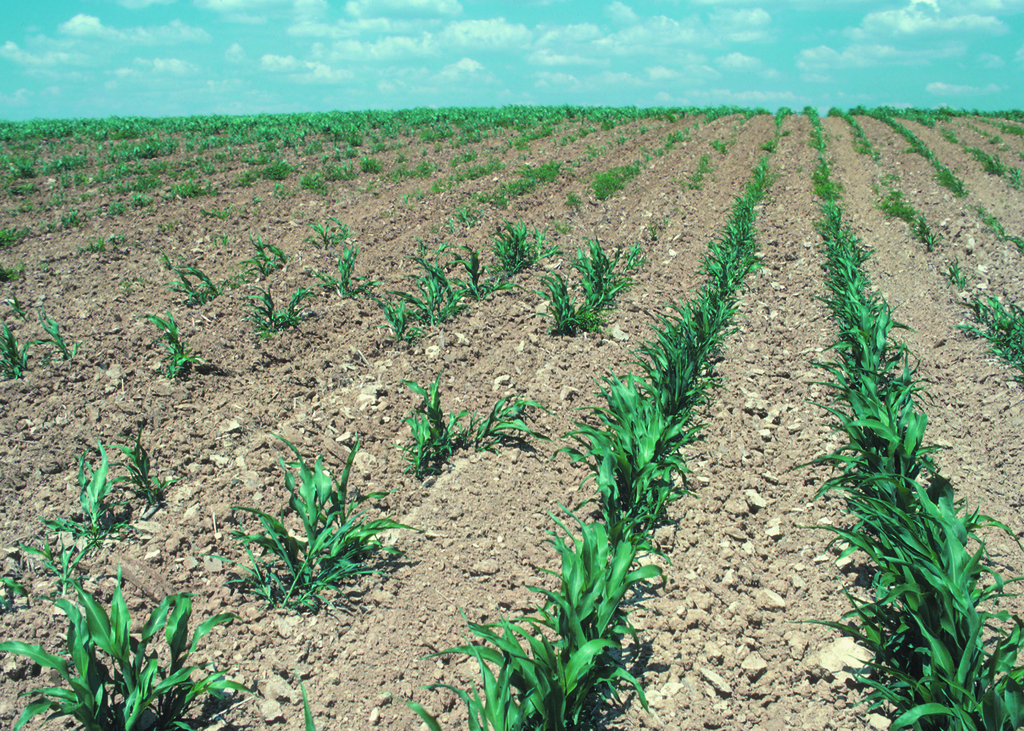 Touch the Soil News #762 (feature photo – drought stunted corn crop – USDA photo)
There have been a number of stories floating around the media that suggest a larger event is lurking between the cracks. Following are a few of the pieces:
Researchers at MIT warn of reducing availability of water for cotton and forage (hay). Hay is the foundational crop for meat animals. The area of concern is the Southwest. Now, the Southwest is huge and includes the states of California, Nevada, Utah, Colorado, Arizona, New Mexico and Texas – an area equal to almost 1/3 of the U.S. land mass. Drought trends could push yields in the most vulnerable areas in these states down to 10 percent of optimal – a point of non-economic status.
The USDA just released is July crop progress report. Corn, the nation's largest crop by acreage with 89 million acres planted this year is being stressed by lack of water. Twelve percent of the corn crop (11 million acres) is considered to be in very poor and poor condition. For spring wheat, almost 6 million acres – 40 percent of the crop – is considered to be in very poor and poor condition. Soybeans, the second largest crop in America also has 11 million acres considered to be in very poor to poor condition.
On the other side of the World there is the mega city Nairobi (Kenya, Africa), with a metropolitan population of over 6.5 million people. Drought issues two-years running has left the area with water supplies at almost half of the need. A material collapse in water supplies is predicted within 30 days. The area is in "emergency crisis" mode.
The drought effects in the U.S. have been partially hidden for decades as the over drafting of underground water aquifers is not seen. Most of the important vegetable, fruit and nut crops in the U.S. come from fields irrigated by pumping water from underground aquifers – aquifers that the U.S. Geological Service reports have been on a steady decline since the 1940s. In the U.S., about 27 million acres of the most important food crops are reliant on underground water extraction.
As the world moves forward in time, the ongoing food-not-lawns movement (particularly since most cities have water infrastructure to all homes) may continue to grow.
Want More? - Sign up below