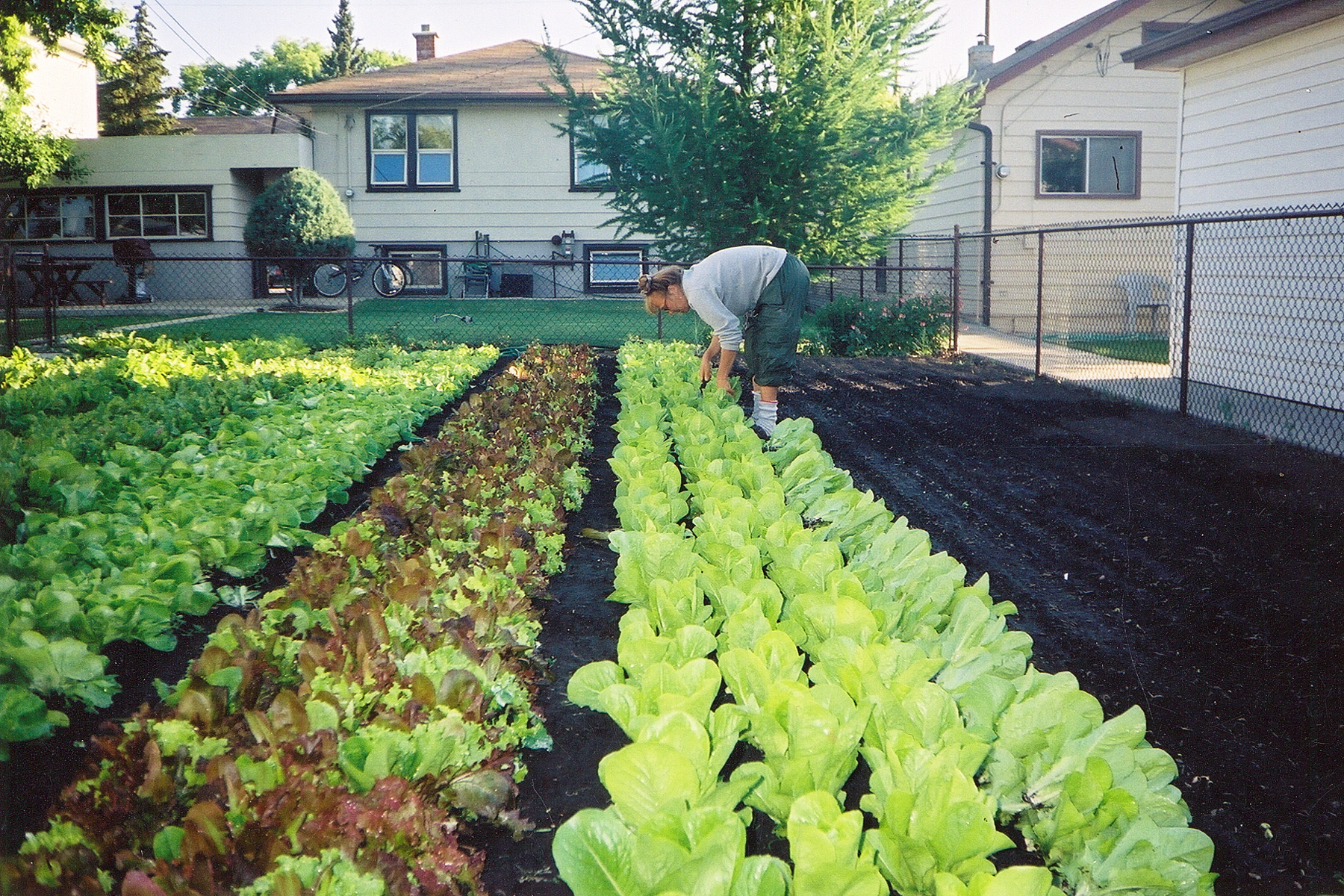 Historically, there were lines dividing farmers and home gardeners. Today, food entrepreneurs are creating variations to raising food that are hybrids. These hybrids offer opportunities for farmer hopefuls that can't afford an industrial farm.
If you have a yard but aren't able to garden, an urban farmer can turn your yard into a mini-farm. By cultivating more than one yard they can turn it into a business with sufficient volume and diversity to economically survive. It's what the economy needs. Older folks, whose yards are being used, can help a little and still be part of an active world.
Wally Satzewich and Gail Vandersteen, of Wally's Urban Market Garden, raise crops on some 20 to 25 different backyards. Fifteen years ago, Wally and Gail sold their small farm and moved to the city to farm backyards. In exchange for the use of the yard and water, homeowners receive credit to shop at Wally and Gail's booth at the farmer's market.
This is a great way to convert the capital value of a yard into food and thereby lower one's grocery bills. When asked why he farms backyards, Wally explained:
[quote]While the land base and expenses for a sub-acre farm are a fraction of the costs for a multi-acre farm, the bottom lines are similar. And counter-intuitive though it seems, a sub-acre farmer can expect to make the same living as a large-scale farmer, but with less stress and overhead, and with more certainty of success from year to year.[/quote]
Wally explains that city environments provide warmer temperatures and wind breaks. These are important season extending factors when farming in colder climates.
In 2006, Wally and Gail teamed up with Roxanne Christensen to create SPIN or small plot intensive farming. SPIN is a learning series that teaches how to take a backyard, front lawn or neighborhood lot to new levels of productivity and profitability. The goal is to get urban farmers in business with the least amount of capital and minimizing costly trial and error.
Through SPIN, folks new to food production have been able to support themselves economically while offering more food choices to locals. Out of the SPIN community, a group of practicing urban farmers now coach and mentor new urban SPIN farmers.
Today, SPIN has a broad offering of educational guides:
Spin 1.0 covers the basics of arranging the land base, tooling up, work flow and marketing.
Pick Your Farm Model covers part-time, full-time and specialty enterprises.
Grow Your Business covers four (4) season marketing and becoming a mentor.
Spin 2.0 – Getting Beyond Basics covers stepped up production techniques and 40 different crop profiles.
Dig Deeper gets into production efficiencies, multi-location farming, specialty crops, indoor farming and working productively with volunteers and interns.
For more information visit www.spinfarming.com
Want More? - Sign up below