Touch the Soil News #105 – Includes 2 videos.
A few years back, I was privileged to attend an advanced two-day seminar on how to teach. I was unprepared for what the facilitator had to say. In short, the "academic" approach to learning reaches only about 20 percent of students – the other 80 percent learn best by seeing, doing, experiencing and on the job.
In one fell swoop, Ritz abolishes the concept the growing food is only for farmers. Being faced with high drop-out rates and his limitations in reaching students, Ritz decided to change the rules. In his own words, Ritz explains his approach: "I'm not willing to accept the things I can't change, I'm going to change the things I can't accept." Out of this attitude, the Green Bronx Machine was born – a bottom to top learning experience with producing food at the core.
"The South Bronx, is the poorest congressional district in America. Who knew we could get kids to come to school for the privilege of farming," explains Ritz.
100 percent of the students who come to Ritz's program are either drop outs or on the way to dropping out. Ritz decided to immerse himself and his students in a program of raising food, developing ways to adopt food growing to urban settings and learning how to prepare the food.
When talking about the program, Ritz explains: "The real life applications of this program transcend all levels of academics – there is reading, writing math, science. They (students) are working in kitchens and supermarkets, they are buying and grading produce, they are aspiring to be chefs in restaurants.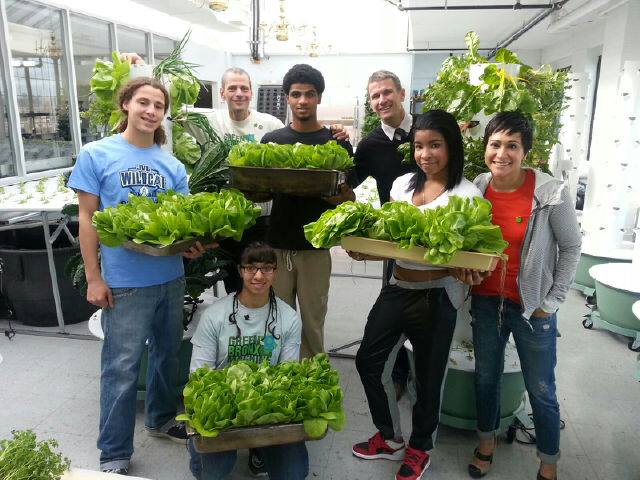 "I started going to school more and things started getting more interesting because of this program. Now I'm building green walls and green roofs all over the world," said Darrel Francis, a graduate of the Green Bronx Machine.
Speaking of the Green Bronx Machine, Bronx Borough President Ruben Diaz explains: "The light at the end of the tunnel (for these kids) is a job.  They are growing food. Other states and other countries are looking to Bronx kids to train them in the technology that Stephen has trained our kids in. Because of Stephen Ritz and the students, the Bronx Borough is now leading the way."
The Green Bronx Machine is a non-profit 501(c)(3) organization. Their work has been documented by national news. Students have present nationally and even traveled to the White House. School attendance rates have risen from 43 percent to 93 percent.
The Green Bronx recently inherited a 60 X 25 foot empty library in a 100+ year old school building which is being renovated as their new home. It will be called the National Health and Wellness Center at PS55. For more information – or if you want to donate – visit http://greenbronxmachine.org
Uploaded here are two short videos that showcase the work of Ritz and the Green Bronx Machine.
Want More? - Sign up below