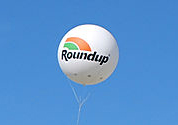 Touch the Soil News #619
California officials have been wrestling with the health risks of Roundup (a Monsanto product) whose primary active ingredient is glyphosate. Glyphosate has been determined to be a probable carcinogen by a study group sponsored by the World Health Organization.
Before California could take action on requiring labeling on RoundUp products, Monsanto brought a lawsuit against California. Monsanto insists that its product poses no risk to people.
Less than a week ago, Fresno County Superior Judge Krisit Kapetan ruled in favor of the state of California. California can now move forward to forcing Monsanto into putting cancer warnings on its glyphosate products – RoundUp. Farmers in California use Roundup on 250 types of crops.
Based on recent financial disclosures, Monsanto reports in its 2016 annual report that it owes for $200 million in environmental and litigation liabilities.
Following is a news clip on the decision against Monsanto:
Want More? - Sign up below