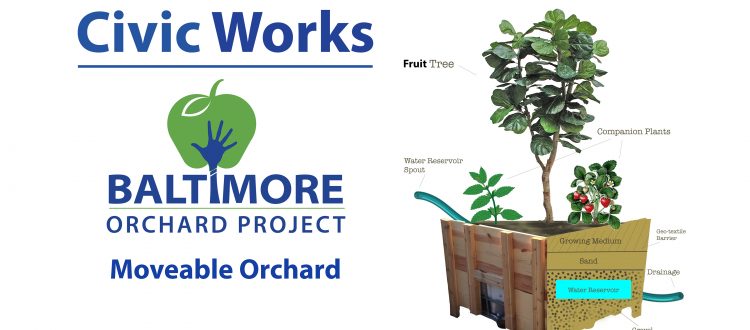 Touch the Soil News #982 (Feature photo – Moveable Orchard Tree – photo courtesy of Baltimore Public Works)
The city of Baltimore has a program to allow residents to improve vacant lots in their neighborhood – including raising food on them. The city even has what it calls the "Baltimore Orchard Project. The project outfits larger containers with a self-wicking bed and a water reservoir and then surrounds the container with a wooden frame.
The containers will be planted with trees that will grow figs, serviceberries, dwarf apples and pears. The fruit is available for picking by the locals. The plan is to install two moveable fruit trees at four different locations. Being moveable, the trees can be moved to other locations if necessary.
The moveable trees will provide fresh fruit for neighborhoods and become an anchor for educational support for area residents to plant more trees.
In a world of intense competition, public projects of cooperation are often a welcome relief. You can read the full story at the following link:
Want More? - Sign up below