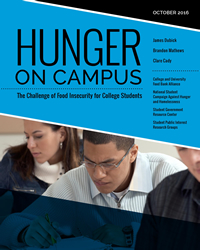 Touch the Soil News #513
The nation's food chain continues to be one of the richest sources of economic insight. In a never-before-attempted-report called "Hunger on Campus" investigators try to get a handle on college hunger. The producers of the report include four (4) nonprofits – College and University Food Bank Alliance, National Student Campaign Against Hunger and Homelessness, Student Government Resource Center and Student Public Interest Research Groups. The report polled almost 3,800 students at 34 community and 4-year colleges across 12 states.
While the report focused on food insecurity and hunger, it also found that 13 percent of students at community colleges are homeless.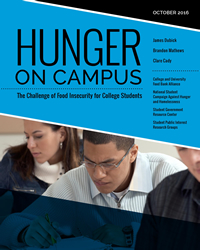 In a nutshell, here are some of the highlights of the report:
48 percent of respondents reported food insecurity in the previous 30 days.
Food insecurity was more prevalent among students of color. Fully 57 percent of Black or African American students reported food insecurity, compared to 40 percent of non-Hispanic white students.
A stunning 56 percent of students, who were the first from a family to attend college, were found food insecure. Only 45 percent of students coming from a family who had at least one parent complete college were food insecure.
Some 64 percent of food insecure students reported experiencing some type of housing insecurity – challenges in meeting rents or finding affordable housing.
Fifty-five percent of food and housing insecure students reported that these problems caused them not to buy a required textbook.
Fifty six percent of food insecure students reported having a paying job.
You can download a complete (pdf) copy of the report at: http://www.cufba.org/
Following is a short video clip on student hunger:
Want More? - Sign up below