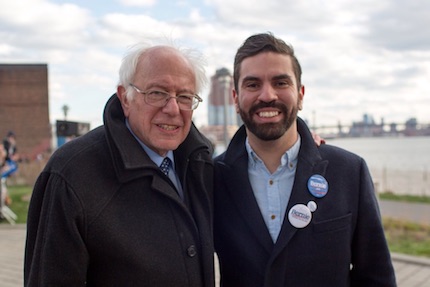 Touch the Soil News #848 (Feature photo – Bernie Sanders (left) with Rafael Espinal – photo courtesy of Rafeal Espinal)
The New York City Council is considering a bill – proposed by Rafael Espinal – to develop a comprehensive urban agriculture plan. Wow, a city of 8.5 million people where there is an average of one person every 1,000 square feet.
While it sounds quite far out, the point is that there is a lot of sentiment that the industrial food system has too many problems to fix. People have to fix it from the ground up.
In specifics, the law proposed by Rafael Espinal seeks to establish a comprehensive urban agriculture plan to include the following:
Catalogue existing and potential urban agriculture spaces.
Classify and prioritize urban agriculture uses.
Explore potential land-use policies to promote the expansion of agricultural uses in the city.
Examine zoning, building and fire codes the may need tweaking to promote urban agriculture.
Expanding the availability of healthy food in low-income neighborhoods.
Integrate urban agriculture into the city's conservation and resiliency plans.
Youth development and education with regard to local food production.
Direct and indirect job creation and impact from urban agriculture production.
Feasibility of creating an office of urban agriculture.
Want More? - Sign up below