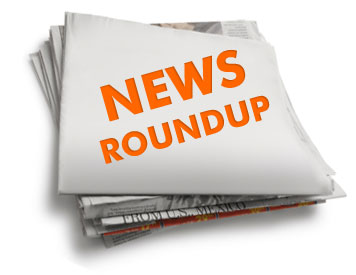 Touch the Soil News #659
Weird Turkey Stuff
Recent investigations into corruption and unsanitary conditions at meatpackers in Brazil has resulted in a weird outcome. Temporarily shutting down many of the nation's meat plants, some 250,000 turkeys did not get slaughtered in time. They are now to fat to fit into the processing machines. A turkey must weight no more than 44 to 48 lbs. in order to fit into the processing machines. Hard to say what will happen to these creatures.
New Poll on Organics
A recent Nielson poll – looking at state by state organic purchases – just came out. More than 80 percent of the nation's 117 million households buy some organics throughout the year. The national average climbed 3.4 percent between 2015 and 2016 to 82.3 percent. One of the highest states is Wyoming, where 90 percent of respondents purchased organics in 2016.
Fast Food Quality
Carl's Jr. just announced it is offering an all-natural charbroiled chicken fillet with no antibiotics ever. Carl's Jr. already has a beef hamburger that is all natural and no antibiotics. The nation's most popular Mexican restaurant – Chipotle – just announced that its menu is now entirely preservative-free.
New Directions
The city of Atlanta of some 500,000 people is in the center of a larger metro area 5.7 million people. Atlanta is one of the first cities in the nation to have a full-time position for an Urban Agriculture Director. Two years into the program, finds Mario Cambardella coordinating efforts between non-profits, licensing new urban farms, helping new community gardens get launched and getting new farmers markets going. One of the city's goals is to bring local healthy food within a half-mile to 75 percent of residents by 2020.
Connecting people
A New Jersey start-up has started a service that connects people who want to grow food but have no land to people who have yard space or land. The connections connect workers, gardeners to farmers markets and more. Called Alfrea, it is a digital community that connects people to advance together for a new urban agriculture future (see video below). http://www.alfrea.com/
Indoor Ag Keeps Getting Bigger
Bright Farms is a New York based company that builds greenhouses close to cities so supermarkets can have local fresh produce. The company just announced it was building a new 160,000 square foot greenhouse 55 miles from Cincinnati, Ohio. The cost of the project is $10 million. On pace to be completed later in 2017, the facility is slated to produce 1 million pounds of non-GMO, pesticide-free salad greens, tomatoes and herbs every year. The facility boats using 80 percent less water, 90 percent less land and 95 percent less transportation fuel than traditional agriculture (see video below).