April 1, 2015 │ Berlin, Germany
The largest European aquaponics farm has just opened in Berlin, Germany according to European Agriculture News . The enterprise is capable of producing 25 tons of fish and 30 tons of vegetables each year while using substantially less water than conventional farming.  Three years ago, with $1.6 million in funding, Christian Echternacht and Nicolas Leschke founded Ecofriendly Farmsystems. In addition to the aquaponics greenhouse farm, they opened up a storefront attached to the farm to sell its produce. There are plans to open a similar enterprise in Switzerland. (See uploaded video and photo of Christian and Nicolas.)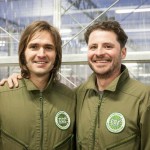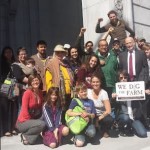 April 15, 2015 │ Albany, California
Occupy the Farm advocates – a topic we have been covering – went into action last week. The movement seeks to save 20 acres of farmland in the Bay area from development. Picking up steam, saving the farm activism expanded with protests at Oakland, McDonalds for fast-food worker pay increases.  Later that day, protests were staged at the opening of a new Sprouts store in San Rafael. Sprouts is slated to open a new store in the development that seeks to pave over the 20 acres of farmland wanting to be saved.
April 22, 2015 │ Kraft Foods Yields
In a popular petition led by activist and New York Times Best Selling Author Vani Hari, Kraft foods has just announced it will remove artificial yellow dyes from all of its Macaroni and Cheese products by 2016. Hari, with the help of 365,000 petitioners were able to apply enough pressure for Kraft's change in policy. Hari's Website "Food Babe" further explained that the Center for Science in The Public Interest has petitioned the FDA to ban these artificial food dyes because risks include hyperactivity in children, cancer (in animals studies) and allergic reactions. The British government and European Union have taken actions that are virtually ending the use of dyes throughout Europe.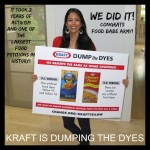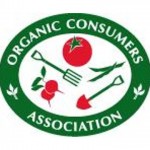 April 23, 2015 │ Finland, Minnesota
The Organic Consumers Association (OCA) in conjunction with Feed the World Project launched the world's first glyphosate testing. Glyphosate is the active ingredient in Monsanto's Roundup.  The effort will focus on women and children.  The testing will test urine, water and breast milk for glyphosate residues. The goal is to raise awareness and put pressure on the USDA to ban the product.  The OCA reports that in 2013, the nation of El Salvador banned glyphosate after the chemical was linked to the deaths of thousands of agricultural workers from chronic kidney disease.
April 23, 2015 │ Brazil
In an unusual twist, Brazilian farmers want their nation to open doors to foreign investors being able to buy and own farmland. In 2010, Brazil's farmers lobbied against foreign ownership of farmland. However, today, Sociedad Rural Brasileria – which represents medium to small farms in Brazil – launched a legal campaign to make Brazil's farmland available for foreign purchase.  In recent years, several billion-dollar Chinese projects in Brazil have been stifled.