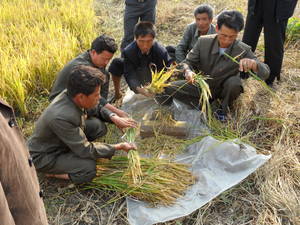 Touch the Soil News #768 (photo courtesy of the Food and Agriculture Organization)
News of North Korea's ongoing belligerence can be a costly game. This is particularly true if you lose your focus on food in favor of competing with the world's richest nations on military expenditures – a competition that North Korea will never win.
North Korea is being hit with one of the worst droughts in its history – sending agricultural production plummeting. Monsoon rains which underpin agricultural production in North Korea have been materially down – a situation that cannot be mitigated by North Korea's limited water storage and insufficient irrigation infrastructure.
According to a joint study the Food and Agriculture Organization of the United Nations:
Yields of early season crops are down by 30 percent – a loss of almost 310 million pounds of food.
Yields of late season crops to be harvested in October-November are at risk and are of little help today as food insecurity is rising.
The FAO sees the young and old in North Korea at risk of famine. North Korea needs to import food and upgrade its irrigation systems.
The FAO says North Korea needs to promote drought-tolerant crops as it faces climate change – in short, the nation needs long term assistance.
North Korea's primary food crops of rice, corn, potatoes and soybeans have been severely damaged by this year's prolonged drought.
It may be hard for North Korea to beg for foreign aid when it is so busy trying to threaten the world with nuclear missiles.
Want More? - Sign up below