Touch the Soil News #321
OLIO was founded by Tessa Cook and Saasha Celestial-One who met during their time studying business at Stanford University in California.
The idea for OLIO came about when Tessa moved back to England from living overseas. On moving day she found herself with some perfectly good food that she couldn't bring herself to throw away. So she went out onto the streets to find someone to give this food to, but failed miserably. In that moment she thought, there has to be a better way – why not a mobile app? And so the idea of OLIO was born. However the first people she shared this idea with thought she was absolutely crazy! And it was only when she described the idea to Saasha and saw Saasha's eyes light up that they both realized they just had to bring OLIO to life. And so the food sharing revolution – and adventure –  began…
Screenshot of the OLIO food rescue app.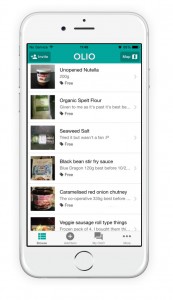 OLIO is about sharing food with others that would otherwise go to waste. The OLIO plan is executed using a free application available on the iPhone App Store or as an android app on Google play. Portals to the apps are on OLIO's home page: http://olioex.com/
Food can be traded directly with other OLIO users or taken to an approved Drop Box OLIO is soliciting folks to volunteer to create a drop box and to engage their friends in the food sharing activity.
OLIO is about connecting people who have food, people who want food and meeting your neighbors.
Following is a short video clip on the OLIO food sharing experience:
Want More? - Sign up below