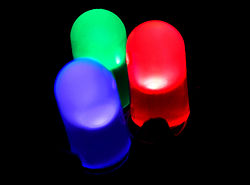 Touch the Soil News #992 (Feature photo – LED Lights for Agriculture – CCA SA 3.0 Unported)
Great Britain is in a quandary. With the approaching exit from the European Union they will break ties with foreign labor to run farms at home and lose out on trade deals for less expensive food.
In the midst of this food uncertainty, a Taiwanese company – YesHealth – has gotten the go ahead to build a $25 million food plant in Great Britain. YesHealth has engineered a food growing platform that is 32 feet long and has 14 stacked layers. The company says the facility can support 3,500 lbs. of vegetables a day, making it the largest "plant factory" in Taiwan.
In a recent story by Focus Taiwan, reports are that it will take two years to establish a pilot factory at the National Agri-Food Innovation Campus in York, England. While it will not be able to stave off the effects of the pending exit of the UK from the European Union, it will establish much needed research to ensure future food security. The YesHealth facility is basically and indoor growing set-up that uses efficient irrigating systems and LED lighting.
You can read the full story here:
Want More? - Sign up below