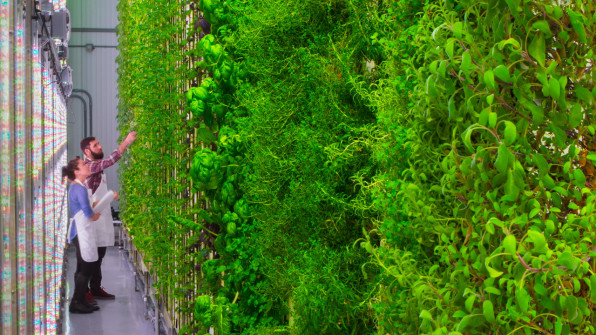 Touch the Soil News #710 (photo courtesy of Plenty)
The information is sketchy, but unusual. Vertical hydroponic farming has been around for a few years and attracted a considerable amount of Wall Street money. There are claims that vertical hydroponics can produce more than 125 times that of field crops in the same space and use only 5 percent of the water.
Recently, a new upstart called "Plenty" has garnered the attention of the Wall Street Journal and Fast Company. You can visit Plenty's website at http://www.plenty.ag/ and read the articles.
Different from rows of hydroponic plants with LED lights above them, Plenty uses 20 foot vertical towers with LED lights placed directly in front of them.
Plenty has caught the attention and dollars of investors to include billionaire Jeff Bezos– so money may well not be a problem. However, big money does not invest unless there is big opportunity. The company boasts some pretty impressive claims to include:
Being able to produce up to 350 times the yield per square foot of land use over conventional outdoor farming. This is almost three times what other vertical hydroponic enterprises are claiming.
Being able to grow food using only 1 percent of the water of conventional farming.
Locate production facilities for ultra-rapid fresh delivery to customers– within hours rather than days.
Plenty is looking for new talent and has posted lists of the positions it is trying to fill. Other than a position as a "grower" the other 12 positions are all high-tech. It is interesting to see the job titles and description on their Website: http://www.plenty.ag/
Unfortunately, Plenty has not produced any video clips of its operations. We're not sure, if that is intentional to protect propriety processes.
Want More? - Sign up below