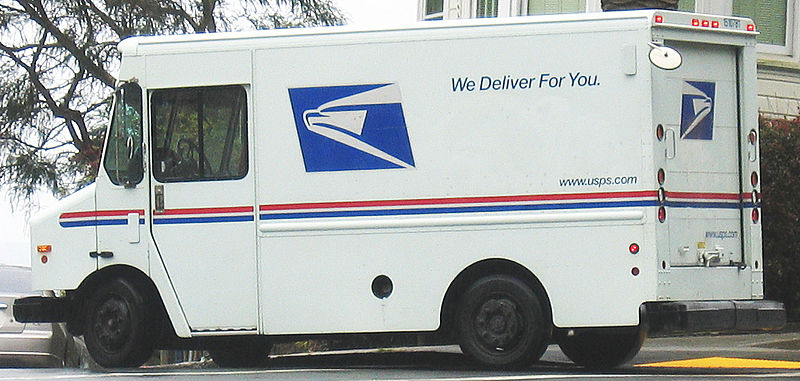 Positive Future #8 (Feature photo – U.S. Postal Truck – public domain)
The weather events of 2017 – particularly hurricanes and wildfires – had more than just an effect on buildings and infrastructure. There were massive farm production losses associated with those weather events. Little question that civilization is trying to minimize its footprint in order to stabilize climate.
The U.S. Postal system is at a crossroads on what it will do with its global warming footprint. The postal service has some 200,000 vehicles in its fleet, most of which now need replacing. Around 163,000 are right-hand light duty vehicles used for carrier delivery. These vehicles were purchased between 1987 and 2001 – making them between 17 and 30 years old – and they're fossil burners.
The U.S. Postal Service is looking to start replacing the older vehicle and are in the process of deciding what and from whom they should buy. There are five (5) manufacturers that have made it to the final bidding. Two of them are offering electrified vehicles with a lower carbon footprint. Electrifying the postal fleet could ultimately save 180 million gallons over more than 1.3 billion miles a year.
The final bidders are AM General, Oshkosh, Mahindra, VT Hackney and Karsen/Morgan Olson.
The U.S. Postal Service will start making decisions in 2018, regarding replacement of the older vehicles. Will the post office go electric in 2018? A number of environmental organizations are getting on the bandwagon and encouraging the postal service to make selections with the environment in mind.
Want More? - Sign up below