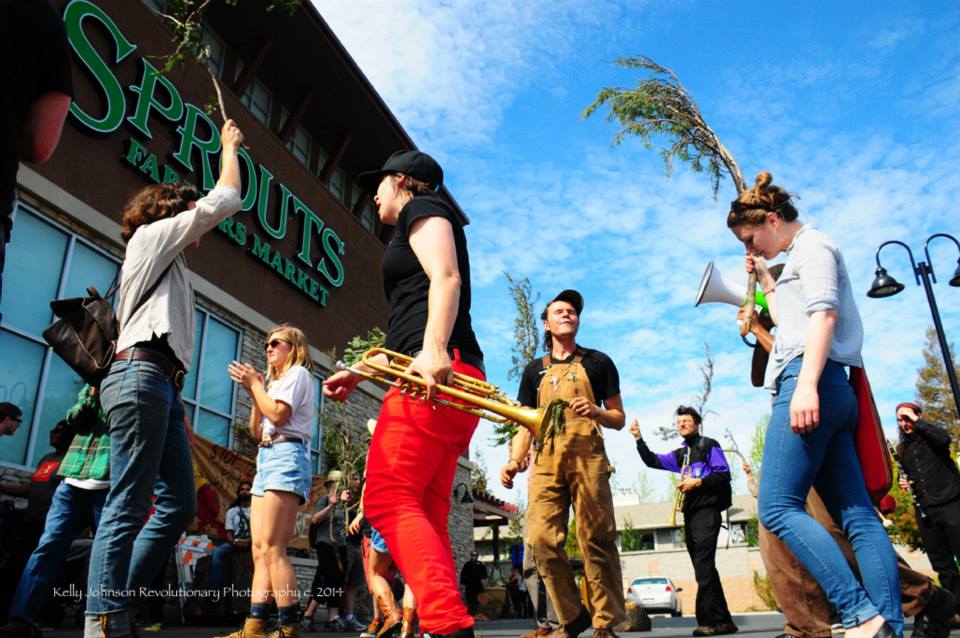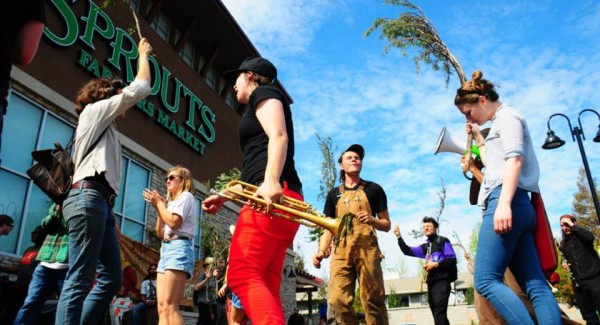 Last month we covered the drama around a 20-acre heritage farm in the Bay Area that is slated for development (found here). Local folks and Berkeley students are not only protesting, but engaging in civil disobedience by occupying the farm.
The University of California – owners of the land – are not budging and moving ahead with clearing the land. Earlier protests convinced Whole Foods – the planned anchor store – to back out. In its place, Sprouts Farmer's Market has decided to build the anchor store. On Saturday, March 14th, Occupy the Farm advocates went to Walnut Creek, California to protest at the Sprouts store (See video of the event uploaded here). Photos and video courtesy of Occupy the Farm.
Sprouts Farmers Market is a publically traded company whose stock is traded on the NASDAQ Global Select Market under the ticker symbol SFM. With annual sales of $3 billion,
Sprouts has around 170 stores in eight (8) southwest states with plans to expand into another 11 south and southeast states.
The protesters, after sitting and blocking the door to the store, got up and created a shopping cart conga line through the store while a brass band played. Shortly, police arrived and escorted the protesters out of the store. In the process, a display was overturned and the police arrested a woman and whisked her away.
Protesting the loss of a small acreage plot to development may appear of little value. However, the world is struggling from loss of farmland due to pollution, urbanization, erosion and degradation at such a rate as to place civilization in a precarious food-insecure future. The aim of the protesters – to save the farm – is at the fulcrum of one of the most impacting mega-trends (save the farms) getting staged to change the world.
Joining the Occupy the Farm protesters was another group of young people wearing red shirts with "Up the Pay, East Bay" on the front. These people represent a growing and vocal alliance within the ranks of some 20 million food-chain workers in America. Last week we did a story (TTS news #31) covering what is emerging as the largest unity of workers to strive for economic justice in over a century.
Protesting, civil disobedience or even staging a peaceful demonstration may not be the avenue for all folks – as there are other venues. The problem is that the issues represented at the Sprouts protest are national and international in scope. The issues include economic survival and what many view as the corporate compromise of food and farming. One might even say that these issues are in the backs of the minds of growing numbers of people taking up gardening.
Want More? - Sign up below