Touch the Soil News #448 (feature art work courtesy of Louisville Grows)
The industrial food chain is a reflection of massive investments whose ability to drain family food enterprises of their cash flows is legendary. As a result, most neighborhood grocery stores are gone, most family farms are gone and the largest grocery chain is the nation's food banking network with over 50,000 partners that have a charitable feeding program.
On the horizon, however, is a new kind of food chain struggling to emerge. Investments in this new food chain are building blocks that stay in place and serve humanity via food, jobs and environmental stewardship. Human-oriented investments have been small in the past. However, the size of "human oriented" investments are growing.
Produce Park opens to the public in July, 2016 (photo courtesy of Louisville Grows).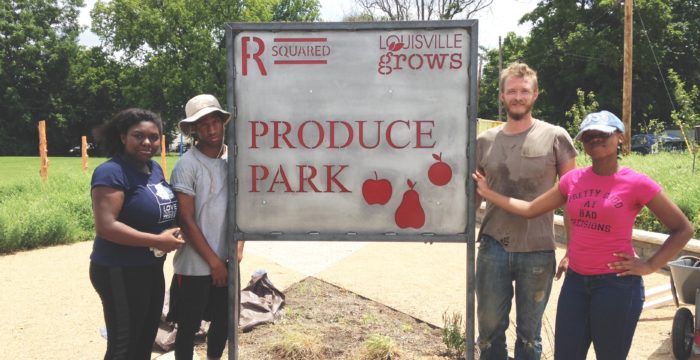 Produce Park, in the west end of Louisville, Kentucky, heralds a vacant city lot transformed into a public orchard. The non-profit Louisville Grows, with a $30,000 grant from Bloomberg Philanthropy, worked with the City of Louisville to plant 24 plum, peach, pear, cherry and berry trees alongside paths and low benches. In the midst of an area designated as a food desert, neighborhood residents now have an ornamental public park as well as access to fresh fruit.
The city of Louisville – one of the most rapid urban warming cities in America – is glad to participate in the rejuvenation of this vacant lot into vegetation that stems the heat. Orchards are particularly desirable for the city as they bring together food and tree canopies that cool.
Louisville Grows was founded by Mason Roberts in 2009 as a way to assist community groups and individuals move towards sustainability. Since its inception, the non-profit has:
Assisted In the creation of 13 community gardens in food-insecure neighborhoods.
Helped develop a 5-acre mixed use agricultural site called People's Garden which houses a 6,000 square foot greenhouse, a one-acre market garden, a 20-member community garden, a large orchard and a natural play space.
Developed the Shippingport Memorial Garden which houses a 15-member community garden, a fruit tree orchard, a children's educational garden, a ¼ acre market garden and a natural play place.
Helped develop Hope Community Farm, a 35 member community garden and CSA that covers 7 acres.
Worked to increase tree canopies in the city by planting over 1,300 trees. In all, they manage three edible orchards that provide local fruit to neighborhoods in food deserts.
From a commercial perspective, the orchards, trees and community gardens - brought to life by Louisville Grows - may be worth millions of dollars. This investment is into permanent physical assets that improve the quality of life, not to be sold, transferred or leveraged for profit (photo courtesy of Louisville Grows).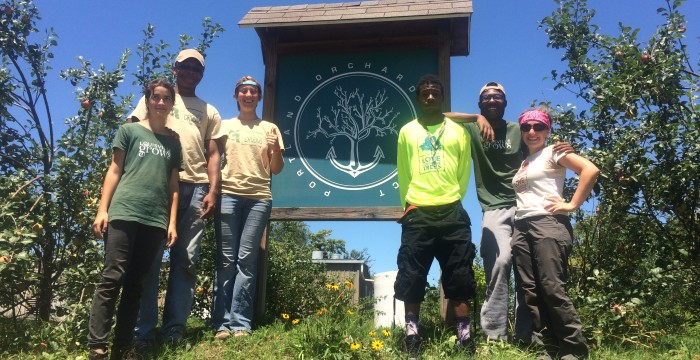 Following is a short video clip on scenes from Louisville grows projects and activities:
Want More? - Sign up below