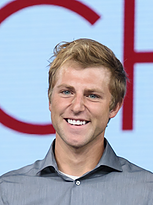 Touch the Soil News #390
Do you ever wonder where dollars come from? The technical accounting acrobatics that banks and the Federal Reserve engage in to invoke dollars are too much for this short news piece. However, there is another sister question that also needs answering.
How effective are dollars as a medium of exchange – or, more simply – how well do dollars circulate? Like a body's circulatory system that takes oxygen and nutrients to the outer limbs, the circulatory system of dollars falls far short of reaching the outer limbs of American society. The U.S. circulatory system that distributes dollars is primarily the activities surrounding employment and the issuance of paychecks. The fewer and smaller the paychecks, the larger the economic black holes.
The sectors of the American economic body that are served poorly by circulating dollars must – in order to eat – engage their labor and local resources directly.
Hitting the news recently is Tyson Gersh, (feature photo) co-founder and president of the Michigan Urban Farming Initiative (MUFI). MUFI is a volunteer base farm in Detroit's North End. Over the past five years, Gersh led 8,000 volunteers to produce 50,000 pounds of food.
MUFI garden in Detroit's North End, has one foot in the contemporary dollar economy and another food in the feed yourself without dollars economy. (photo courtesy of MUFI)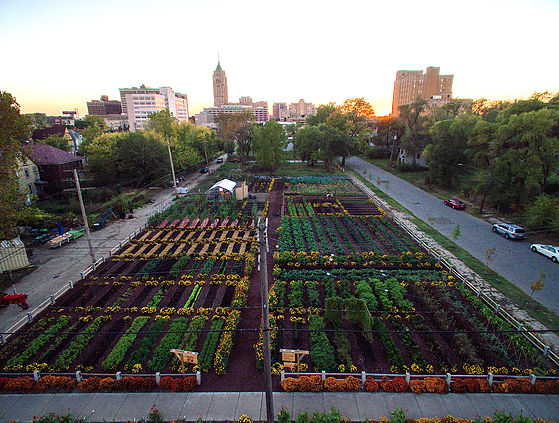 MUFI is engaged in providing:
A pay-what-you-can access to food (like a suggested donation grocery store) for over 200 households within 2 square miles supplied in the last 2 years)
Local Markets: Thousands of lbs. of produce go to over 5 markets within 5 miles.
Local Restaurants & Vendors: Thousands of lbs. of produce supply locally-owned businesses all over southeast Michigan.
Food Pantries: Thousands of pounds have been given to local churches and other non-profits with feeding programs.
According to the U.S. Bureau of Labor Statistics, in 2002, almost 67 percent of people aged 16 and older were working. By the end of 2015, that number had dropped to 62.5 percent. This drop of 4.5 percent means – after adjusting for population growth – that 11 million more people should be drawing paychecks – helping dollars circulate. Not included in this calculation is the percentage of people with jobs at marginal compensation rates.
Decreases in the percentage of people over 16 working is a longer-term trend. The emergence of activities – such as embodied by MUFI – may, in the not-too-distant-future, become a mega-trend.
Following is a medium length video interview of the MUFI farm manager. The economic insights are good.
Want More? - Sign up below