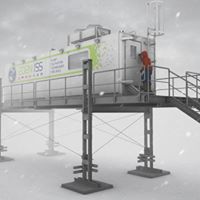 Touch the Soil News #997 (Feature photo – EDEN ISS Indoor Farm in Antarctica – courtesy EDEN ISS)
In the Antarctica – one of the coldest and most remote places on Earth – scientists are learning how to grow food without sunlight or soil.
Called the EDEN ISS project, it looks like a shipping container with high-tech embellishments. The goal of this project is to test growing food on the ISS – International Space Station. Scientists at the shipping container greenhouse in Antarctica have been growing salad greens, cucumbers and radishes and are now working on fruits.
Want More? - Sign up below