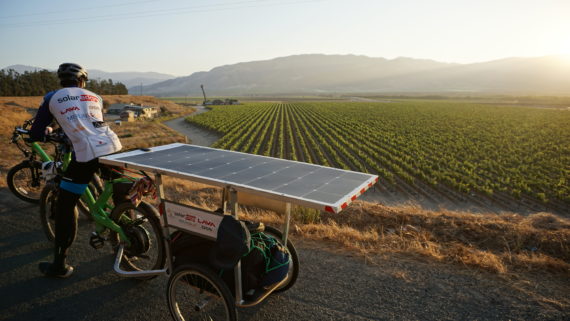 Positive Future #95 (Feature photo – Sun Pedal Ride – courtesy of Sushil Pakala Reddy)
There is an under-reported race going on – the race to lower cost energy and sustainability. A recent Clean Technica article showcases the efforts of an energy engineer (Sushil Pakala Reddy) from Mumbai, India.
Reddy created a solar-cell trailer that powered the bicycle which pulled it. Reddy has now traveled thousands of miles in India, France and the USA – reaching thousands of people and making presentations along the way.
Simple innovation may be an answer to expensive Wall Street innovations which most folks around the globe can ill-afford.
See the complete story here:
https://cleantechnica.com/2018/03/11/solar-tour-bike/?utm_source=feedburner&utm_medium=feed&utm_campaign=Feed%3A+IM-cleantechnica+%28CleanTechnica%29
Want More? - Sign up below