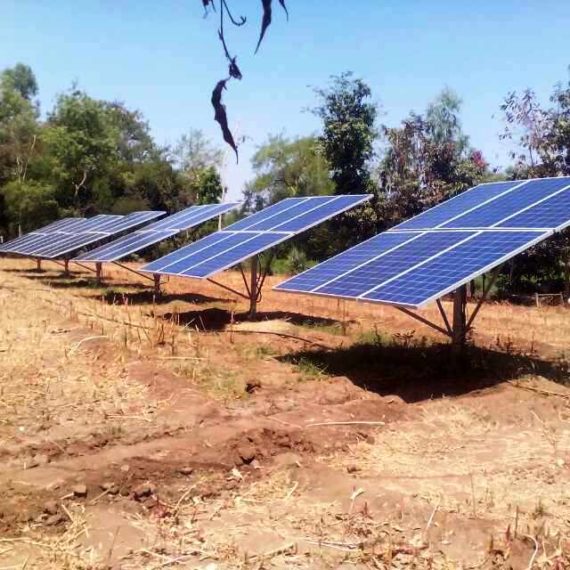 Touch the Soil News #405
(An Editorial by Benjamin Gisin)
I remember years ago sitting at a desk and approving agricultural loans for the nation's 7th largest agricultural bank. One of the largest expenses some farmers faced was the cost of electricity to run water pumps and irrigation pivots. If the farmer was late the previous year in paying power bills, the power company would demand farmers to prepay an season's pumping costs. The power company would not turn on the pumps until the deposit was made. This was painful, as power costs often ran in excess of $100,000.
Recent news from India reveals an astonishing trend – small farmers using solar-powered irrigation pumps. As per official estimates from the Ministry of New and Renewable Energy (MNRE), India has installed over 23,000 solar water pumps for irrigation as of April 30, 2016.
Solar panels, on trackers like these in India, can run small 5hp to 10hp irrigation pumps. When not used for irrigation, electricity from the solar panels can be sold to an electricity grid. (photo courtesy of the Gujarat Energy Research and Management Institute)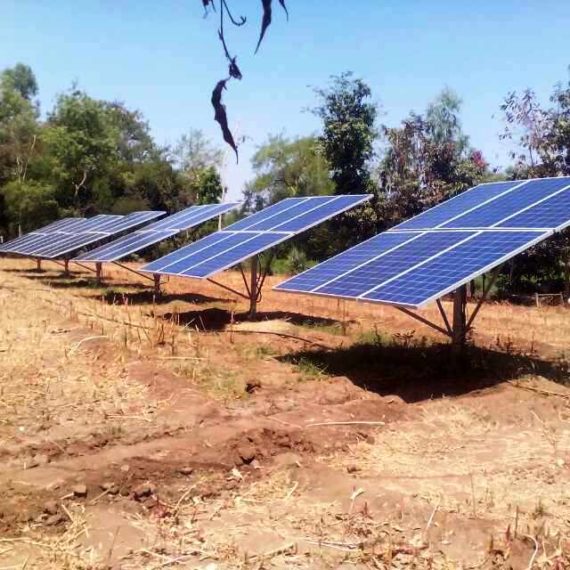 While India's solar irrigation pumps do not aid large numbers of acres, the implications for the future are significant. In one fell swoop, farmers in India leap frog over large grid operators and fossil fuels. As the technology spreads and costs continue to decline, alternative and sustainable power for agriculture will change the face of farming.
At present, a number of Indian solar powered irrigation projects are becoming a reality with assistance from federal grants and non-profit organizations. Here in America, solar power is gaining momentum. The Solar Energy Industries Association reports new U.S. solar accounts for 64 percent of new electric generating capacity in the U.S. for the first quarter of 2016. In short, solar PV surpassed coal, natural gas and nuclear combined in new electric generating capacity.
In the U.S., one of the largest cost barriers to farming in cold climates is that food production is limited to only certain months of the year. Low-cost solar energy could allow greenhouses and other controlled environment enterprises produce urban food 12 months a year.
Following is an insightful video clip of solar irrigation projects in India and their potential to go beyond existing technologies proven to be expensive, polluting and unreliable.
Want More? - Sign up below