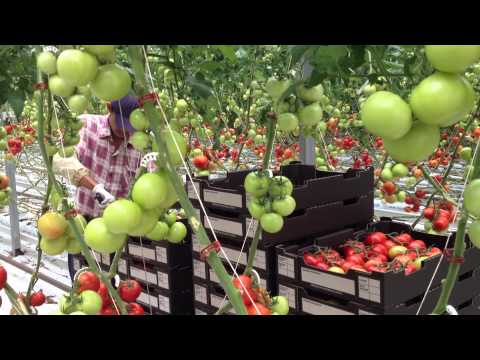 Touch the Soil News #210
While the information doesn't reach mainstream American news, the folks down under (Port Augusta, Australia) are engaged in a big project. Sundrop Farms – a hydroponic greenhouse venture – is in the midst of building a 49.4 acre complex of greenhouses. Sundrop Farms has reached an agreement with Australian supermarket chain "Coles" to supply locally grown, sustainably produced affordable produce. Coles has 750 retail outlets across Australia.
Inside a Sundrop Farm tomato greenhouse - the new greenhouses will cover about 2.2 million square feet (photo courtesy of Sundrop Farms)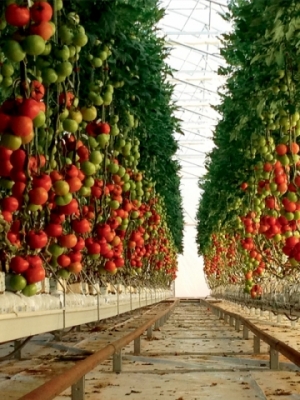 The farming project, called the Port Augusta project, does not utilize the traditional farming cornerstones of fresh water, farmland and fossil fuels. Instead, the project will utilize solar power to run the facilities and desalinate water. The desalinated water will be used in a hydroponic system. The goal of Sundrop Farms is to be able to grow food anywhere there is sun and seawater. The greenhouse structures will allow production year-round regardless of weather, season or soil quality. Sundrop Farms has assembled a globally diverse and experienced technical team to bring all of the different technologies into harmony and function.
The produce that will be grown include tomatoes, peppers, chilies, cucumbers and a variety of fruits. Sundrop Farms boasts of its many benefits to itself and the planet to include conservation of water resources, lower operating costs, fewer food miles, reduced pesticides, reduction of fossil fuel demand, efficient use of marginal land and creation of green jobs.
Sundrop Farms says that their produce will be rich in vitamins, minerals and fiber along with being low in fat and sodium. The growing medium will be nutrient-rich coconut husks.
Partnering with Sundrop Farms will be one of the world's largest investment firms – Kohlberg Kravis Roberts & Co. L.P. (KKR). The company has offices in 15 countries across 5 continents managing an overall portfolio of over $100 billion. KKR has put up $100 million for the greenhouse project. Following is a short video by Sundrop Farms showing a flyover of the project's progress.
Want More? - Sign up below