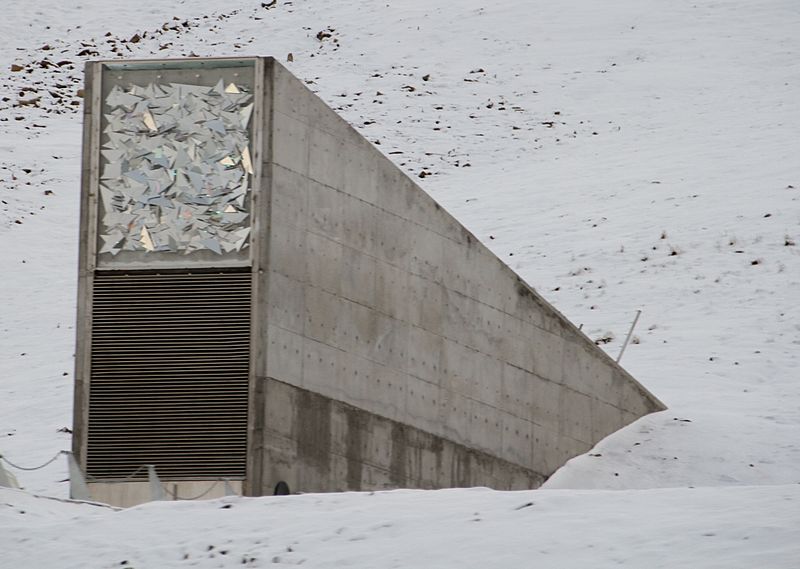 Touch the Soil News #704 (feature photo – CC SA 3.0)
The Svalbard Seed Vault is a repository of global plant diversity. The seed vault is in an abandoned Arctic coal mine, deep inside a mountain on the Norwegian island of Spitsbergen. The island of Spitsbergen covers an area of 14,546 square miles, slightly larger than the state of Maryland. It has a permanent population of 2,600 people and borders the Arctic Ocean to the North.
With over 4.5 million seeds in its vaults, the Svalbard Seed Vault has become the "safety net" of humanity. It recently served to provide genetic seed stock that was destroyed in the ongoing war in Syria.
The Svalbard Seed Vault has been special because of the natural cold surroundings. The seeds are stored at a cold zero (0) degrees Fahrenheit.
However, the Svalbard Seed Vault recently came into the news as global warming caused flooding and water to reach the doors to the vault. Fortunately no water entered the facility and actions are being now taken to deal with the reality of melted water threats in the future.
The Svalbard Global Seed Vault is a physical reminder that we are all connected to the seeds that sustain us. Obviously war and climate change will not sustain us.
Want More? - Sign up below