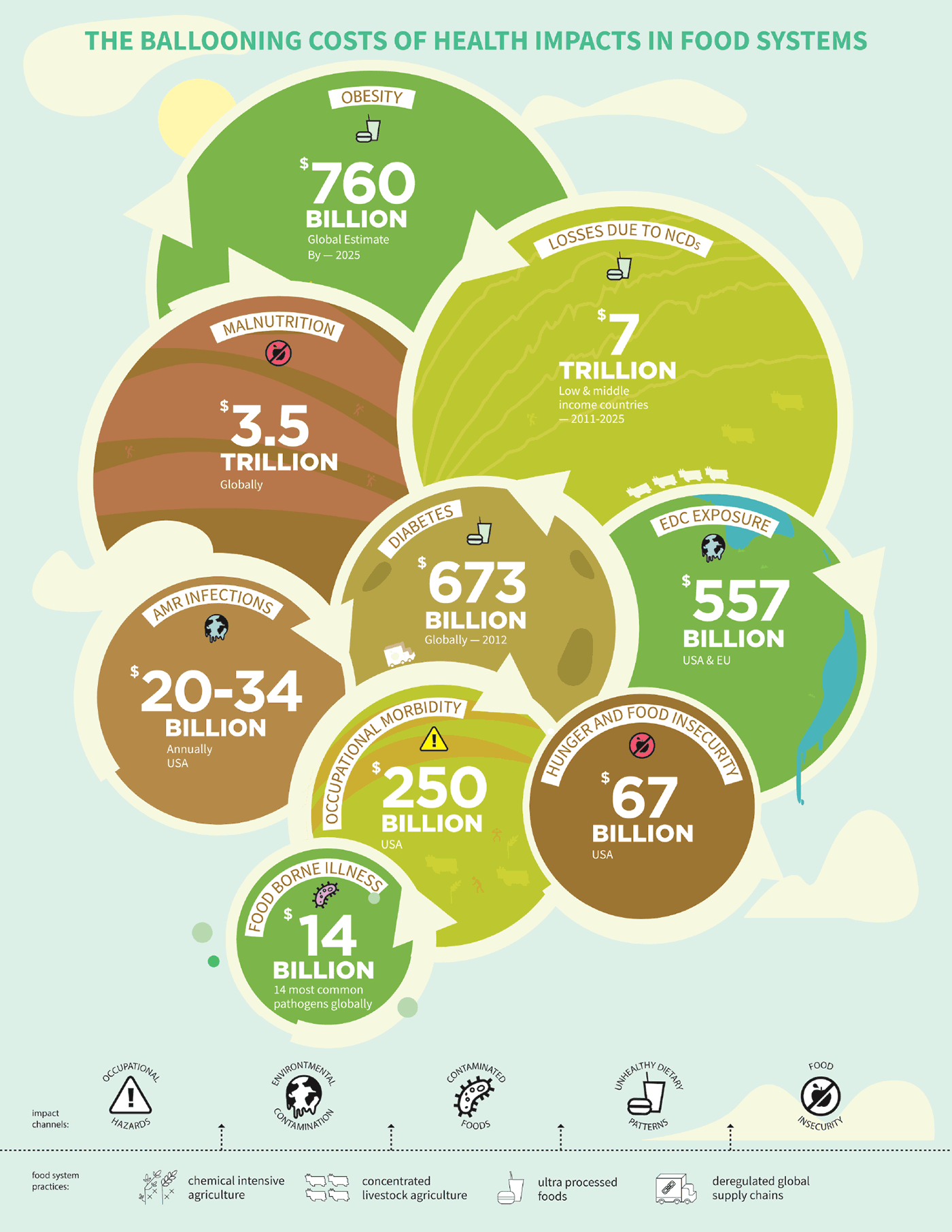 Touch the Soil News #872 (Feature photo – Cost of Industrial Food Systems on Health – Graphic by Global Alliance for the Future of Food – CCA SA 4.0 International)
The Global Alliance for the Future of Food and IPES-Food, recently released a report that attempts to identify the health cost of an unhealthy food system. Estimates of the impact on people's health around the globe are in trillions of dollars a year. Following are the key findings of the report on what causes global health to falter:
Occupational hazards. Physical and mental health impacts suffered by farmers, agricultural
labourers, and other food chain workers as a result of exposure to health risks in the field/factory/workplace
(e.g., acute and chronic pesticide exposure risks, production line injuries, livelihood stresses).
People get sick because they work under unhealthy conditions.
Environmental contamination. Health impacts arising via the exposure of whole populations to
contaminated environments "downstream" of food production, via pollution of soil, air, and water
resources or exposure to livestock-based pathogens (e.g., contamination of drinking water with nitrates,
agriculture-based air pollution, antimicrobial resistance). People get sick because of contaminants in the
water, soil, or air.
Contaminated, unsafe, and altered foods. Illnesses arising from the ingestion of foods containing
various pathogens (i.e., foodborne disease) and risks arising from compositionally altered and novel
foods (e.g., nano-particles). People get sick because specific foods they eat are unsafe for consumption.
Unhealthy dietary patterns. Impacts occurring through consumption of specific foods or groups
of foods with problematic health profiles (e.g., resulting in obesity and non-communicable diseases
including diabetes, heart disease, cancers). These impacts affect people directly through their dietary
habits, which are shaped by the food environment. People get sick because they have unhealthy diets.
Food insecurity. Impacts occurring through insufficient or precarious access to food that is culturally
acceptable and nutritious (e.g., hunger, micronutrient deficiency). People get sick because they can't
access adequate, acceptable food at all times.
For a complete copy of the report go to: https://futureoffood.org/
Want More? - Sign up below