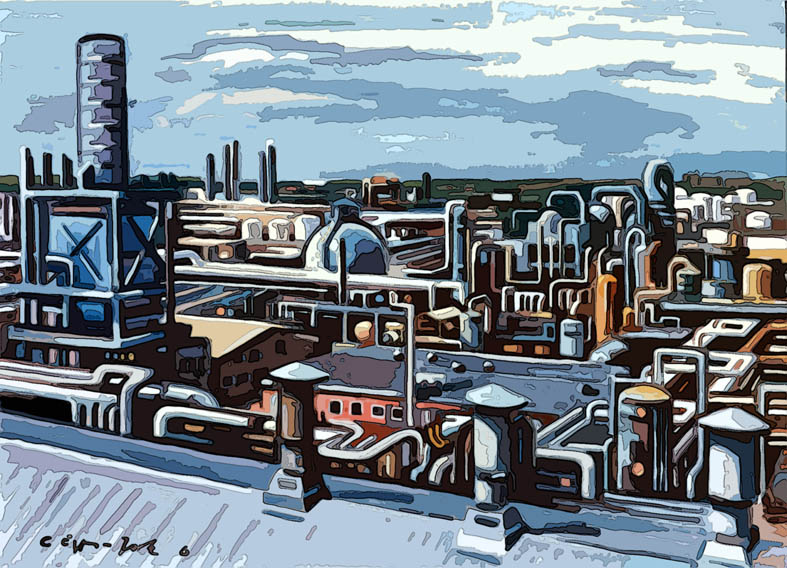 Touch the Soil News #254
When investors want more money, Katy bar the door. The recent merger announcement by two of the world's largest farm chemical companies suggests that it was masterminded by behind-the-scenes investors pushing for an unusual merger and subsequent restructure into three (3) companies.
Both Dow and Dupont are giants in the farm chemical industries (chemical factory painting by Carsten Eggers)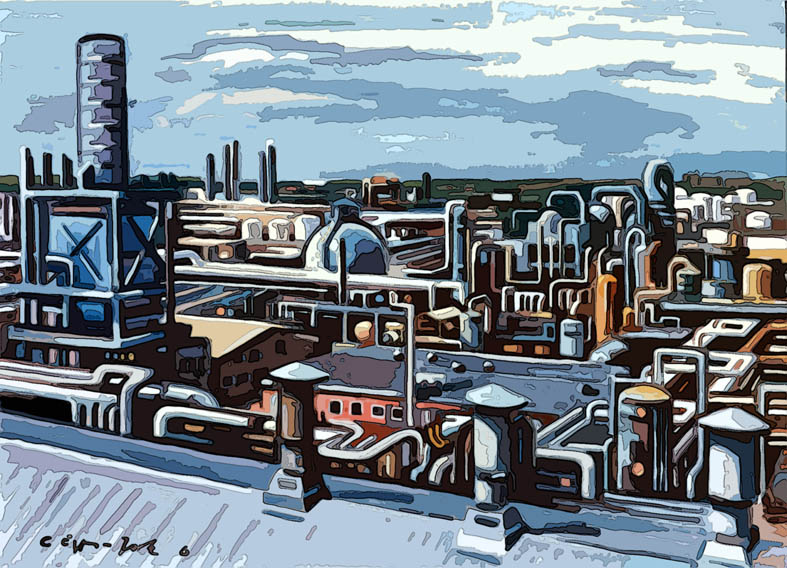 So who are the biggest stockholders in the two companies? Actually they are the same. They are not individuals, but two (2) different investment management firms. The first is Blackrock, Inc. which owns 6.3 percent of Dupont and 5.5 percent of Dow. The Vanguard Group owns 5.3 percent of Dupont and 5.5 percent of Dow. Together, Blackrock, Inc. and Vanguard will have a $15 billion stake in the combined company.
While estimates are not yet final, it is not unreasonable to expect an across the board cut in jobs by 10 percent plus– a number that could exceed 10,000 employees. It is interesting to note that the biggest concern in the financial media is the impact to investors – not the jobs. Speaking of investors, if you were an investor in Dow or Dupont, what do you think your company would be worth after letting go thousands of people with a large portion of the remainder of the employees feeling insecure?
Caught in the tumble of combining and then splitting into three companies are Dow CEO Andrew Liveris (whose total compensation for 2014 was $26.6 million) and Dupont CEO E.J. Kullman (whose total compensation for 2014 was $14.3 million)
Dupont and Dow are both big in seeds, pesticides and genetically modified organisms. So is this good news for the non-GMO, sustainable, organic and local food movements? Well let's not hold our breath. However, when a couple of big industrial farming giants get split up because earnings are down, shed thousands of employees and re-organize into three (3) companies – it is a sign that the giants are faltering.
Following is a brief interview of a Wall Street analyst talking about the merger:
Want More? - Sign up below