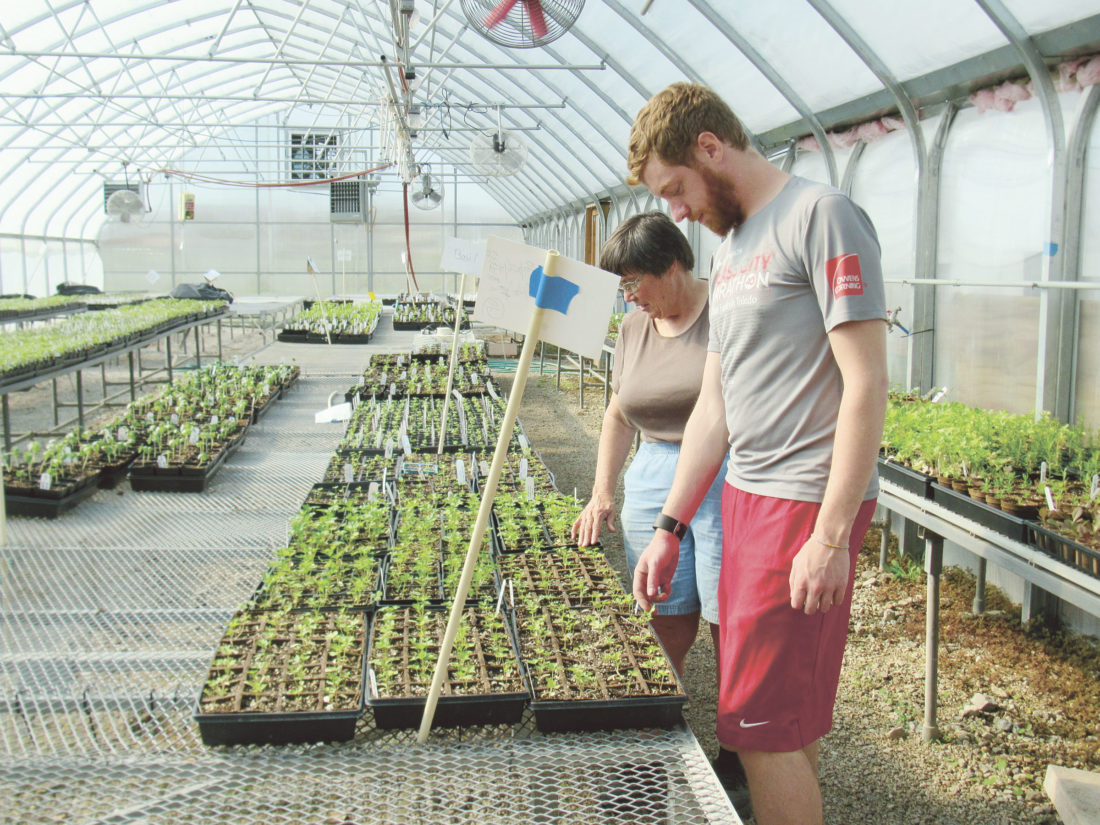 Touch the Soil News #684
(feature photo by Vicki Johnson – Rita Wienken checks over new greenhouse plants with assistant farmer Aaron Lucius)
Civic Food is trend which has emerged out of our modern culture – a culture riddled with issues. Civic Food is a trend that was born out of necessity to address:
Erosion of peoples' connection with food and adequate nutrition.
Economic needs that the financial world can't reach.
Food insecurity.
Erosion of community cohesiveness.
Youth at risk.
Inadequate access to learning job skills.
The list could go on, but the reality is that the idea of "civic food" (working together as a group to feed ourselves and raise ourselves to a higher level) has been growing. For example, in 2006, through a collaboration of the Toledo Botanical Gardens and the City of Toledo the organizational structure for Toledo Grows was born.
Toledo is a city of 280,000 people in the center of an urban metro of over 600,000 people. So it is not an easy place to develop community morale and identity. However, by organizing around common issues facing modern cultures, an identity was born – Toledo Grows.
Toledo Grows has a home base farm of approximately 3 acres adjacent to the Toledo Botanical Gardens. From this home base farm, over 125 community gardens around the city are served, supported and brought together as one large "civic-minded" group of people. People that together donate thousands of hours for the benefit of everyone.
Services provided to community gardens in the Toledo Grow's network include:
Technical expertise in assisting gardeners to plan, build and maintain their community garden.
Free seeds and seedlings for each growing season.
Free loan of tools for large work days at gardens.
Assistance with recruiting volunteers for large work days.
Educational opportunities, including workshops and opportunities to learn from the growing efforts at the urban farm.
Networking with other community gardeners, particularly through quarterly meetings of community gardeners.
Materials, such as wood, rain barrels, and compost, as they become available.
Advocating in the community for urban gardening.
In 2016, Toledo Grows accomplished the following: 1) 7,575 packets of seeds distributed. 2) 7,521 plants distributed. 3) 6,500 people served through the community gardens. 4) 6,000 volunteer hours donated. 5) 3,751 lbs. of produce harvested at the home farm. 6) 795 pounds of honey harvested. 7) 565 tools loaned out. 8) 900 people attending the 2016 Seed Swap.
The Toledo Grows model is driven by cooperation – in contrast to the modern economic model of competition. Over history, the food chain has been organized around a number of differing principals that have included: 1) Indentured service and slaves. 2) Socialist collective farms. 3) Financially competitive industrial farms.
The emergence of a "civic minded" approach to food (see videos below) is new to the modern world and is actually growing. While its output is negligible today, that does not necessarily mean it is not efficient or economical. If the large effort supporting industrial food through public policies, farm programs and federal nutrition subsidies were channeled into the "civic" corridor things would change dramatically.
Want More? - Sign up below