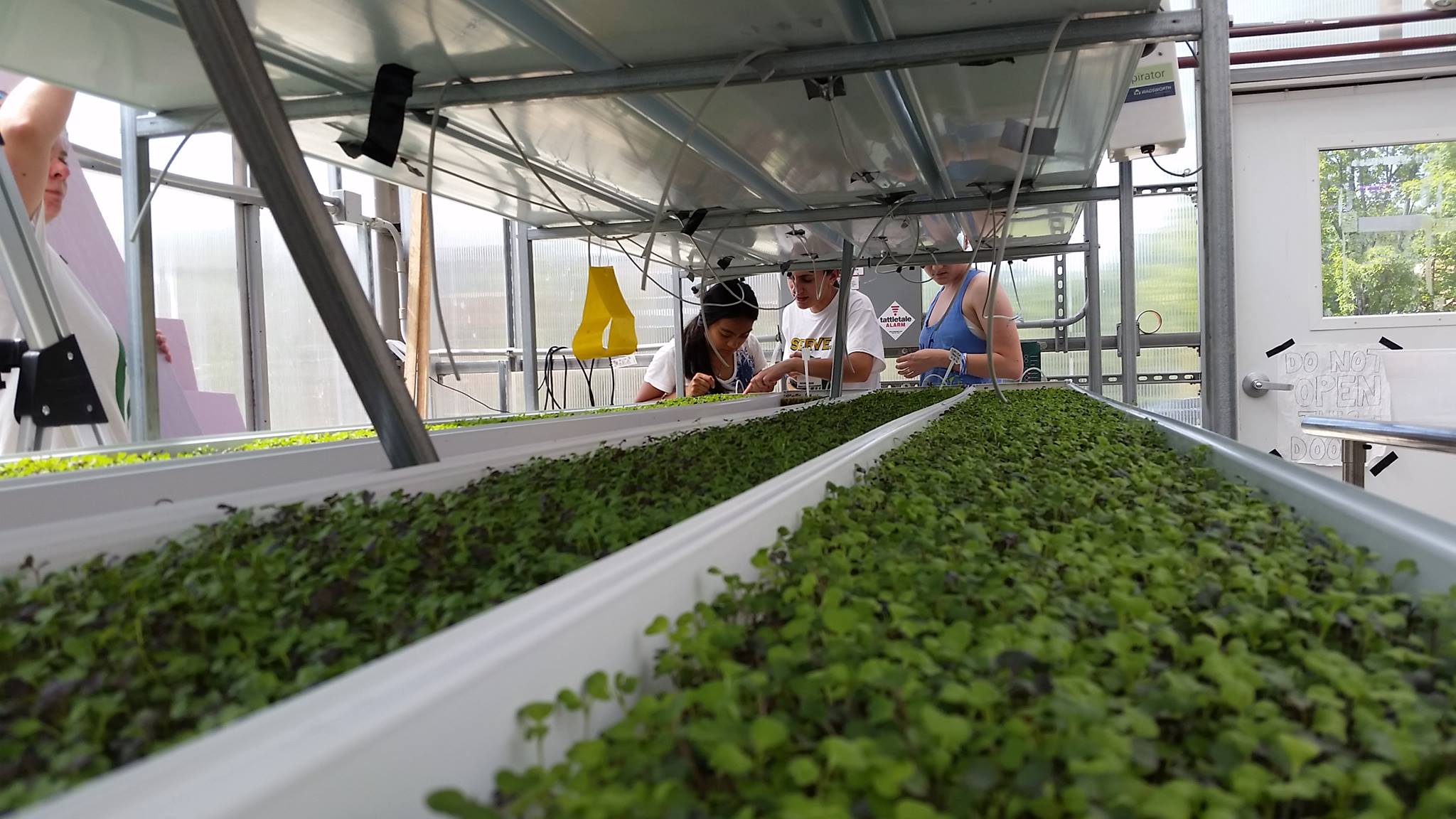 Touch the Soil News #650 (Feature photo – courtesy of Office of Sustainability, George Mason University)
Welcome to Fairfax County – 1.2 million people – and George Mason University (GMU). GMU has almost 3,000 teachers serving almost 34,000 students. It is the largest public research university in Virginia.
Enter Doni Nolan, a 2014 graduate from GMU in biology. While at the university, Doni was introduced to growing food in a facility called the President's Park Greenhouse. She got hooked and decided that her life's career was to be a food farmer. Today, Doni is the Greenhouse coordinator at GMU and is commonly known as the "Mason Farmer." She oversees what has become more than a hydroponic research facility – the President's Park Greenhouse. Today the greenhouse also raises food for the University – no small feat in a world where industrial food is competing heavily for every food dollar.
Doni sees to it that food production out of the hydroponic greenhouse conforms to the certified standards required by Sodexo – a multinational food-service corporation that feeds the GMU campus mess halls. Doni's efforts have resulted in fresh produce grown on campus to be served in GMU kitchens. This year, Doni's efforts are projected to supply 2,000 lbs. of fresh produce to the GMU cafeterias at a gross revenue of $20,000. See the video below to meet Doni.
While Doni's efforts are in part subsidized by the University, there are several key aspects that are worth noting for other urban college graduates who want to be food farmers:
Find a source for what you produce before you get too far down the line.
Capitalize on the growing public (and academic) sentiment for local food.
Don't give up until you have moved to the front of the cash flow line when it comes to food dollars (working with Sodexo to get straight into the mess halls).
Big corporations are hard pressed to cover every niche out there, which translates into opportunity for the small entrepreneur.
Want More? - Sign up below