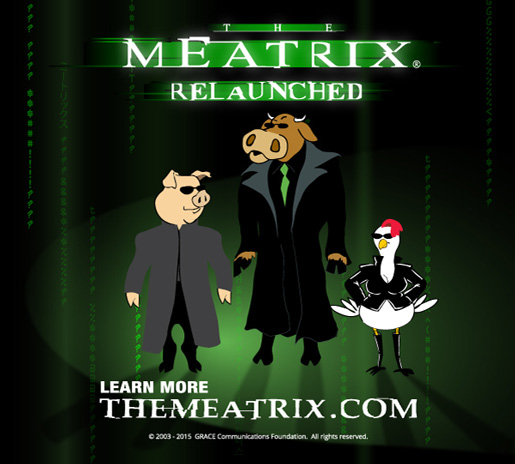 Did you see the original Meatrix video clip? It is a cartoon animation about factory farms and the problems they cause to humans, animals and the environment.
The first Meatrix came out in 2003.
The film's animation takes a serious subject and makes learning about it fun and engaging. Since the original, there have been updates including The Meatrix II and the Meatrix II½ which are all done tastefully and in a way that pulls you in.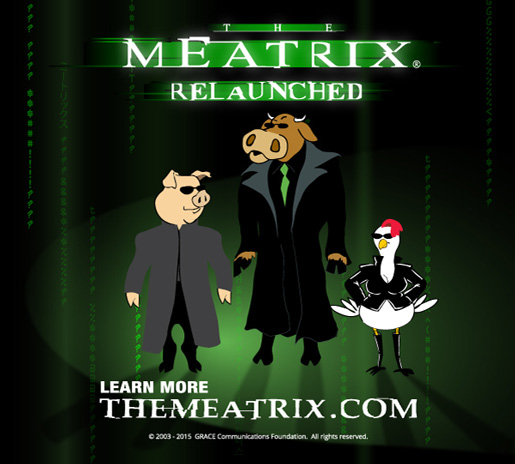 CNN Headline News said the film was: "Fighting back in a way you might not expect. … You don't want to miss it." The Seattle Post Intelligencer said: "The Meatrix achieves something we didn't think possible – a pretty funny expose of the evils of factory farming.
Earlier this year (2015) the producers of the Meatrix (Graceland Communications) have updated the story under a new short video – The Meatrix® Relaunched (uploaded here).  Over the years, The Meatrix family of videos have been viewed by over 30 million people and received numerous awards. The film has been translated into over 30 languages.
Copies of the DVD can be downloaded for free from The Meatrix website at: http://www.themeatrix.com  You can also order free copies of the DVD, download movie transcripts and view the original series of Meatrix videos.
Another revealing short video about what happens to animals was recently produced by the Farm Sanctuary – a place taking in factory farm refugees. While it is impossible to save the millions of animals at risk, the Farm Sanctuary serves as an educational and media effort to get the word out (see video uploaded here).