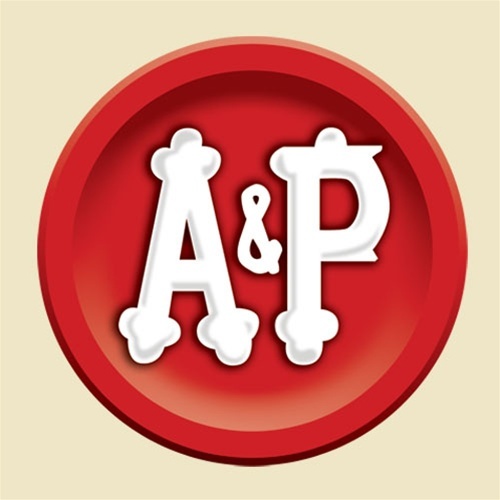 Touch the Soil News # 124
For almost 60 years – from 1915 to 1975 – A & P supermarket was the nation's largest supermarket chain. In its heyday, the company had 16,000 stores. The store was founded in 1859 as the Great Atlantic & Pacific Tea Company. The name was later shortened to A & P.
A & P cashiers line up for store opening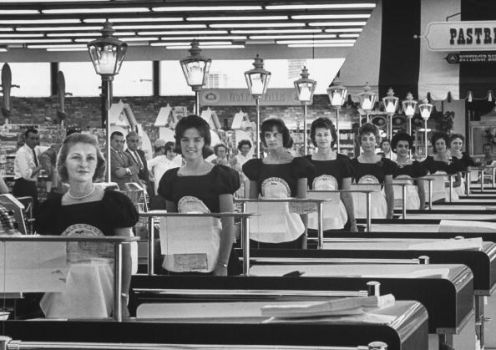 Today the A & P supermarket has only 320 stores and Bloomberg Business reported that the store was up for auction, but there were no bids. A & P told Bloomberg that: "No decision has been mad regarding a particular outcome, and it would be inaccurate and irresponsible to suggest otherwise."
A & P had clean stores as seen in these 60s style displays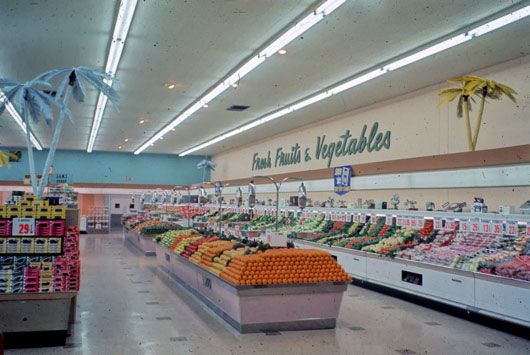 A & P began losing market share in the 1950s when it failed to keep pace with chains opening up larger, modern supermarkets that drew customers in with more offerings and more square footage. Most other chains like Albertsons, Safeway, Kroger and Walmart, increased the size of their stores into the super-size stores we see today.
Today, the national leader in large format grocery stores is WinCo Foods. Headquartered in Boise, Idaho, WinCo takes the prize for awe and wonder. The average grocery super store today has 40,000 square feet. New WinCo super stores have 100,000 square feet. As a private employee-owned store, it boasts the best prices and can easily move into a Walmart market and put Walmart into pain.
In the 60's most folks shopped at only one grocery store
Since 1950, and always a step behind, A & P has gone through numerous downsizes, reorganizations, management upheavals and sell outs. Today, the remaining 320 stores are owned by two private venture capital companies – the Yucaipa Companies and the Mount Kellet Capital Management Company.
Much of the story of the A & P grocery chain is one that thousands of U.S. companies have experienced – chronic competition that in time swallows up our past and roots. Because of the success of the company over so many years, there were a number of issues creeping up on the company. As their stores came to be viewed as "dated," A & P was also facing increasing pension costs and high labor costs.
A &P filed for bankruptcy back 2010 when financially it had become insolvent. Despite emerging from Chapter 11 Bankruptcy in 2012, the chain could not regain sufficient profitability to sustain itself.  In June of 2015, word was out that A & P was considering a number of other options since there were no bids during attempts to auction off the company. The options A & P is considering include filing bankruptcy again, selling more stores or selling other assets.
Despite all the identifiable issues that have led A & P to its present condition of weakness and inability to earn sufficient profits, it almost seems that businesses have a life cycle that is difficult to alter. With venture capital interests owning the company, and no real grocer with bottom line responsibility in ownership, can the pursuit of profits alone keep a company alive?
Uploaded here are two short A & P commercials from the past.
Want More? - Sign up below