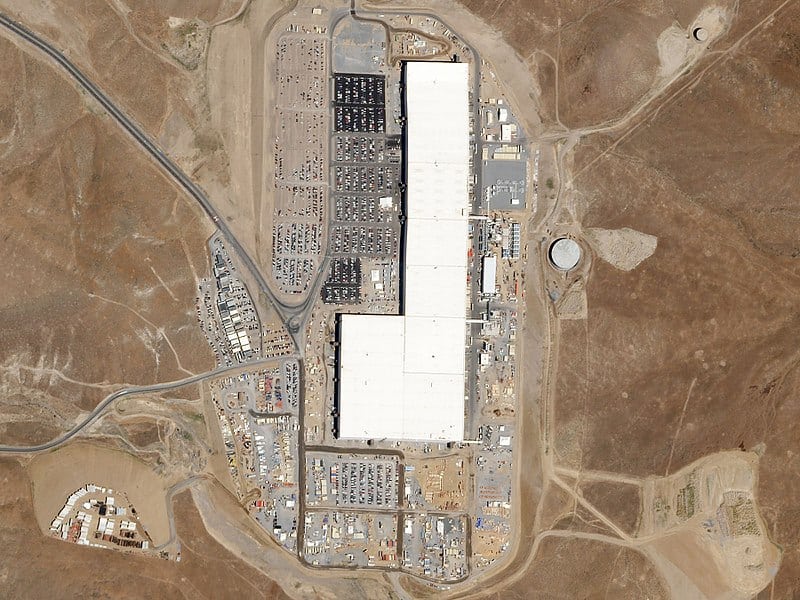 Positive Future #452 (Feature photo – Tesla Gigafactory – CCA SA 4.0 International)
It is not often that we have a first-hand story to tell, but this one almost fell into our laps. Over the past weekend we had to make a trip to the San Francisco Bay Area. On our way we drove past a small town called Fernley (Nevada) and on to the Reno/Sparks metro area. Halfway between Fernley and Reno there was a new freeway interchange being built. We knew that we were close to the area where the Tesla Gigafactory was operating and being expanded. So we decided to take a detour off the freeway and see what was going on.
To our surprise, In a harsh desert mountain area with lots of wild horses running free, is the Tahoe Reno Industrial Center. The Center just happens to be the largest industrial park in the United States. A four lane highway curved through miles of low mountains and desert areas. With over 100 companies calling the place home, the Tahoe Reno Industrial Center has over 100,000 acres of private land dedicated to industry. What was stunning about the area is that not only was this home to the Tesla Gigafactory, but many existing and new-coming companies whose foot print far exceeded that of the Tesla Gigafactory.
We tried to contemplate the incentives and political efforts of Nevada and the area where the industrial center was located that resulted in this mega-industrial park out in a remote desert area.
One company that stood out was called Switch, with brand new facilities on its 2,000 acre site. Plans are that Switch will expand to occupy facilities that total 7.2 million square feet at a cost of $4 billion dollars. In all respects, Switch is a close contender to the Tesla Gigafactory in terms of ultimate size and impact.