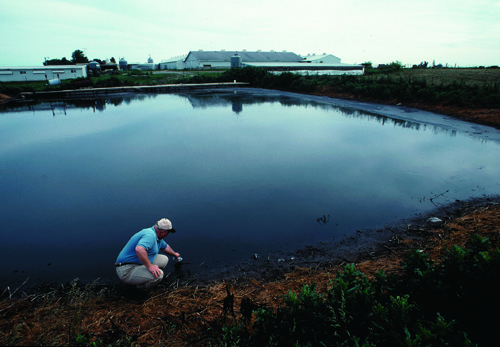 Touch the Soil News #1002 (Feature photo – Hog Farm Manure Lagoon – USDA)
Bladen County in North Carolina is in the heart of hog-farm country. The area made news recently when 10 of its citizens sued and won a lawsuit that claimed a large hog farm (near their modest homes) substantially and unreasonably interfered with their use and enjoyment of their property. One can imagine the smells and other issues such as waste processing.
The Jury awarded damages totaling $50.7 million – over $5 million for each of the 10 plaintiffs. The name of the hog farm was Murphy-Brown. Murphy-Brown is owned by Smithfield Foods. Murphy-Brown is but one of over 500 farms owned by Smithfield plus another 2,000 independent contract farms around the country. Smithfield is owned by the WH Group from China. The company is the world's largest pig and pork producers. You can read the full story here.
http://pulse.ncpolicywatch.org/2018/04/26/jury-awards-plaintiffs-more-than-50-million-in-historic-hog-nuisance-lawsuit/
Want More? - Sign up below