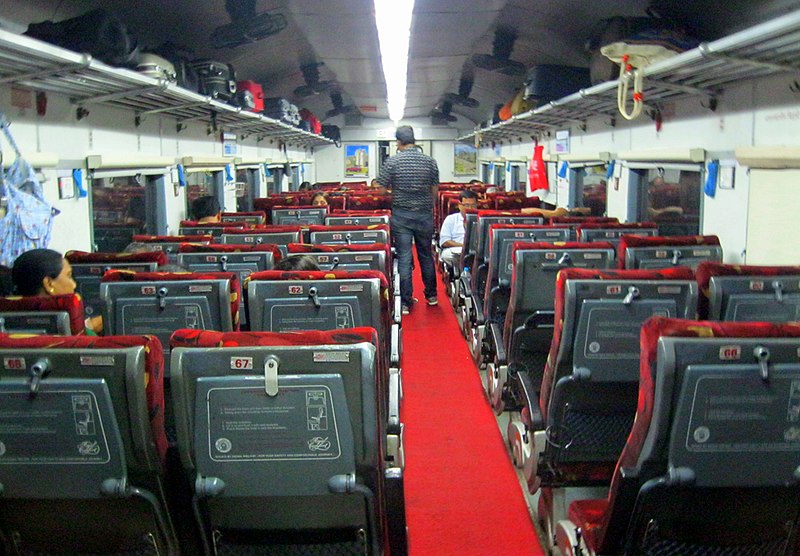 Positive Future #33 (Feature photo – Wide bodied rail car of Indian Railways with luxury seats and air conditioning. – CCA SA 3.0 Unported)
If one follows the sub-popular news, there can be hints of big events on the horizon. Indian Railways, the India State railroad conglomerate, carries over 8 billion passengers a year. Of their over 11,000 locomotives, over 5,200 are electric. With over 1.3 million employees, the Indian Railways is the 8th largest employer in the world.
India just announced it was closing two large coal plants and is in the process of building new solar installations. Indian Railways, is seeking to further electrify its systems, but with sustainable energy. As such, it recently said it would support the building of a new mega-solar park with a 1,050 megawatt capacity – which is similar in output to a large nuclear power facility.
The big news, however, is that Indian Railways plans to set up 5 gigawatts of solar capacity over the next few years. While estimates vary, 1 gigawatt could power over 3.5 million homes.
Indian Railways is also reconfiguring itself to have higher-speed routes and are pushing for new levels of comfort and luxury. Economic data from the U.S. and across the world still shows that wherever train development continues, economic development follows.
As Indian Railways – as it electrifies itself – is now a driving force for getting energy from the sun.
The following video clip shows how fast "electrified" trains can travel and notice how long these passenger trains are compared to the small Amtrak trains in the U.S.
Want More? - Sign up below