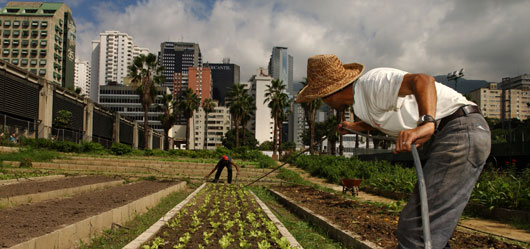 Touch the Soil News #766 (feature photo – courtesy of FAO)
According to the Food and Agriculture Organization (FA0), a division of the United Nations, 800 million people worldwide practice urban agriculture. These urban agriculture efforts account for roughly 15 to 20 percent of the world's food supply.
The FAO sees urban agriculture as reaching far beyond just vegetables to include small animal agriculture (rabbits, goats, sheep, dwarf cattle, pigs, guinea pigs and fish). Urban agriculture includes trees for fruit and fuel wood. Small garden plots can be up to 15 times more productive than rural holdings.
The FAO is working to expand the recognition of urban agriculture as an official land-use category in cities and counties.
Food trade around the world has grown to over $1 trillion globally; it is a sign of not only access to specialty foods from other nations, but on a much larger scale the need to import food by nations unable to feed themselves. It is with this backdrop that the global urban agriculture scene is expanding.
Want More? - Sign up below