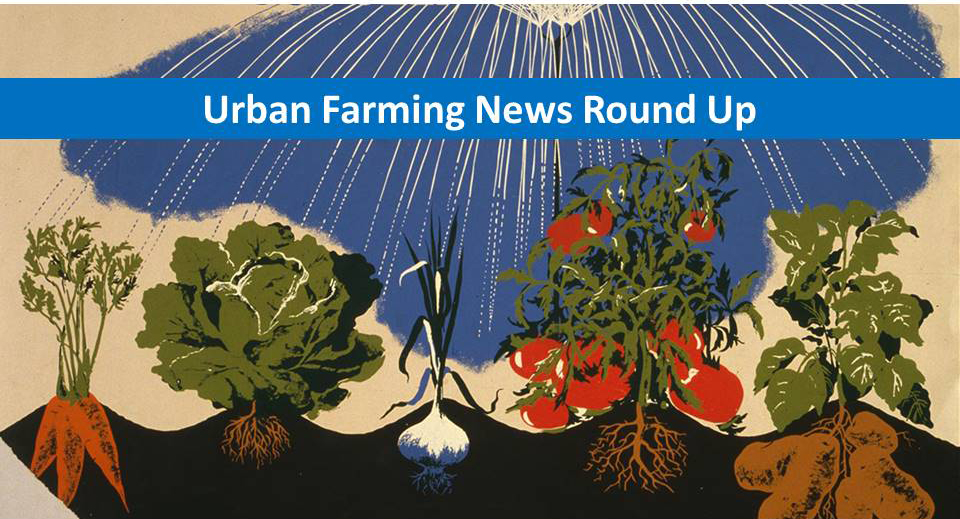 Touch the Soil News #503
Urban U-Pick Orchard:     Core Orchards Detroit has a vision to create an 11-acre urban U-Pick apple orchard. The state of Michigan is home to hundreds of apple orchards, but not one in Detroit. The non-profit has raised more than $400,000 for the community-oriented project. While there are a number of hoops to still jump through, other area organizations are joining forces to make it happen.
An artist's rendering of the planned U-Pick apple orchard in Detroit (photo courtesy of Wolverine Human Services).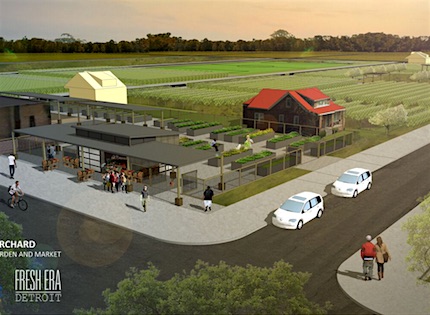 Growing Community Gardens:     Washington D.C. is celebrating the growth of community gardens within its municipal boundaries. From barely a few gardens 10 years ago, the city now boasts over 71 community gardens. The increase in gardens is due in large part to efforts by local advocates and the city parks and recreation department.
Celebrities Help Urban Garden:     Celebrities Curtis "50 Cent" Jackson and Bette Midler are collaborating on a community garden in New York that offers a green alternative to juvenile detention. Located in the Queens neighborhood, the garden is called the 50 Cent Garden. The garden hosts rain harvesting technology, a childrens learning garden, multiple vegetable beds and a patio area.
The 50 Cent Garden – courtesy of Curtis "50 Cent" Jackson and Bette Midler.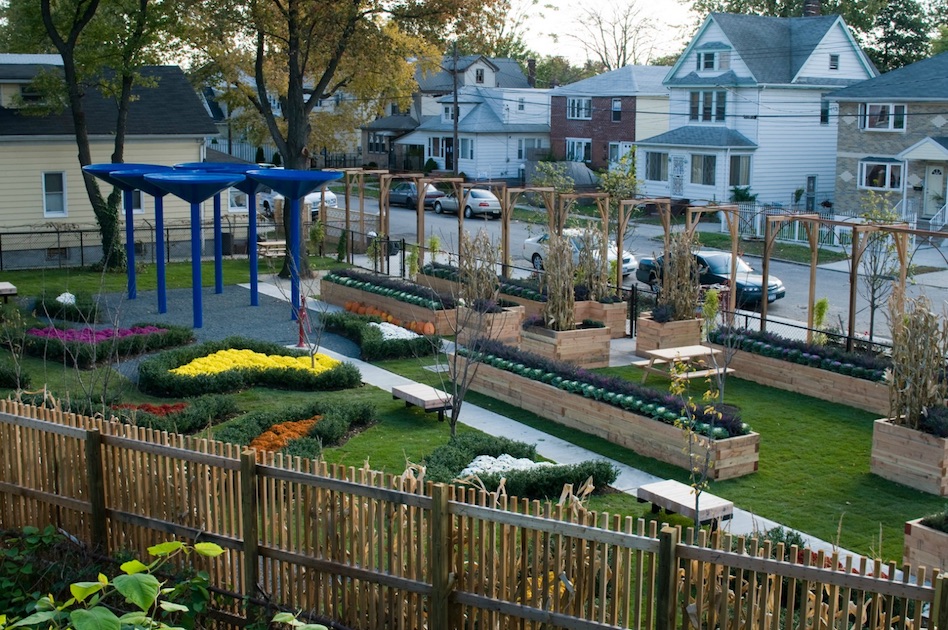 Proposed Urban Agriculture Office at the USDA:     Michigan Senator Debbie Stabenow is introducing the Urban Agriculture Act of 2016. The Act proposes to help facilitate: 1) Agricultural cooperatives. 2) Rooftop, vertical and indoor farming. 3) Invest $10 million into urban ag research. 4) Promote urban ag mentorship, education, community gardens and healthy food. 5) Promote soil remediation and urban composting.
Seattle's University District Food Bank to Raise Food:     The University District Food Bank is getting into urban agriculture. Plans are to create a rooftop garden – 2,000 square feet of raised beds capable of producing 10,000 pounds of produce annually. The new venture will engage 50 young people who will learn basic gardening skills.
Women-led Farms Are Increasing:     The USDA reports that farms run by women have tripled over the past four decades. Meet Carol Ann Sayle who runs one of the oldest urban farms in the nation – a 15 acre spread. Following is a video of Carol Ann and her sage advice about growing food:
Want More? - Sign up below