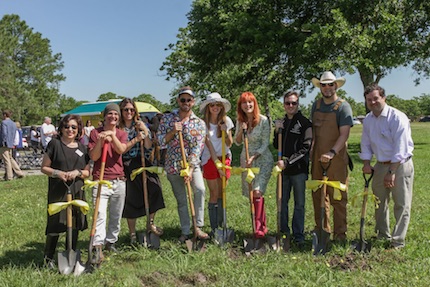 Touch the Soil News #369
Canada's Rising Cost of Food Makes Urban Farming More Attractive
Statistics Canada recently announced that vegetable prices are up 17.2 percent from a year ago and fruit prices are up 14.4 percent from a year ago. The Calgary Herald recently reported a head of cauliflower costing as much as $8 a head in some grocery stores. The bulk of Canada's fresh produce is imported from California. Four years of drought-reduced yields in California have taken their toll in Canada. Even so, a number of new urban farm entrepreneurs are seeing opportunity to bring food back home.
Santa Fe, New Mexico to Receive a $6.5 Million Urban Ag System
A recent story by the Albuquerque Journal reports that a private New Mexico Company (Ecoponex Systems of New Mexico, LLC) is partnering with Santa Fe Community College to build an urban agriculture system that will yield enough food to provide vegetables and fish for more than 16,000 people. The hope is that the facility will complement technologies already taught on the campus.
Artists rendering of the proposed Ecoponex facility at Santa Fe. Ecoponex promotes its renewable energy efficient farming system that is an enclosed ecosystem of water, fish and plants.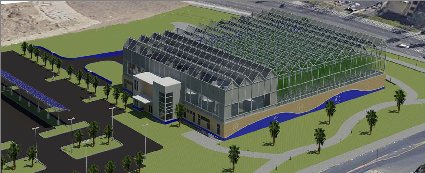 Vegas Roots – Las Vegas' First and Only Community Garden Continues to Grow
With a little over four acres to work on, Vegas Roots goes beyond just raising food. The garden is open to the public from 9-2 Tuesdays through Saturdays. Vegas Roots has 36 raised beds, fruit trees and chickens. Attention is focused on introducing and developing children to raising and cooking food. Vegas Roots offers businesses and others to 'adopt' a bed for $125 per quarter. Donors can then plant what they wish. There are subsidies available for people unable to afford the $125 per quarter. Below is a short video clip on Vegas Roots.
Urban Farming – A Tool to Rescue War Veterans
On Earth Day this year, nearly 100 people participated in the ground breaking ceremonies for Hope Farms. The project is developing seven (7) acres of land in Houston, Texas into an urban farm. Hope Farms will employ organic methods of raising food in one of the Houston's largest food deserts. In particular, the effort will train military veterans to become successful agri-entrepreneurs. Below is a short video on Hope Farms.
Growing Food – A Trend for Social Justice and Food Activisim
Harlem Grown is an independent nonprofit in New York City. The organization now operates four community gardens including a greenhouse that produces 9,300 bunches of arugula, swiss chard and basil each month. All work and all produce is shared. Everything grown is free to the community. The focus is on youth development. Harlem Grown serves over 1,000 children from three (3) Harlem schools. Below is a short video on Harlem Grown.
Want More? - Sign up below