A popular term for foods that have been genetically tampered with is "Frankenstein." Part of that labeling stems from risks that you can't control or predict all the variables that come out of genetic engineering. To complicate things, there are many conflicting reports that do not support GMO safety. There are also the risks of polluting the food genetic pool.
PR Watch, recently reported that the USDA received 73,000 comments that overwhelmingly opposed the commercialization of the genetically modified apple – called the Arctic Apple. In addition, the USDA also received disapproval from the U.S. Apple Association, the Northwest Horticultural Council (which represents growers who produce over 60 percent of U.S. apples), the British Columbia Fruit Growers Association and other grower groups.
According to the Union for Concerned Scientists, the U.S. Environmental Protection Agency advised the USDA not to approve the genetically engineered apple.
At issue with the Arctic Apple is a new form of genetic engineering called RNA interference or gene silencing. We're not adding anything, but disabling something in the apple. The Artic Apple, according to its parents – Okanagan Specialty Fruits of Canada – will not brown when bruised or sliced. You can eat an apple and not have a visual warning of the age, damage and pathogens that might be present.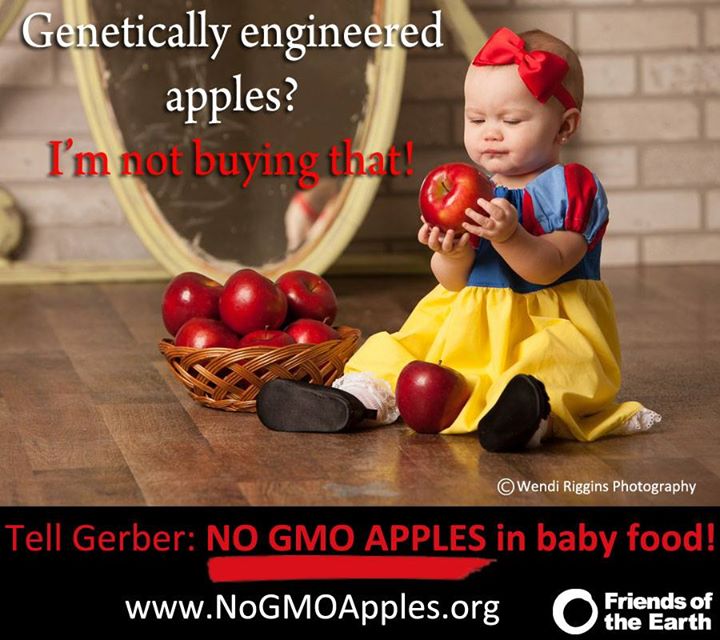 The apple varieties approved by the USDA – for genetic silencing – are the Granny Smith and Golden Delicious varieties. Of concern is that the genetically engineered apple could contaminate organic or conventional apple orchards – compromising genetic diversity.
Part of the larger issues are that apples that do not brown would be targeted towards children who get pre-sliced fruit at McDonalds and other fast food restaurants. Pre-sliced apples are a frequently recalled food product. Once the whole fruit is sliced, it has an increased risk of exposure to pathogens.
Since browning is a sign that apples are no longer fresh, "masking" this natural signal could lead people to consume contaminated apples.
The GMO apple brings to the forefront another contentious issue – food democracy. A survey by the New York Times found that 93% of people think food containing GM ingredients should be labeled (New York Times, 2013). So, why are the USDA , the FDA, and Congress not taking affirmative action?
The Organic Consumers Association (OCA) already has over 30,000 signatures for a petition to McDonalds, Wendy's, Burger King, Dunkin Donuts and Subway to not source the Arctic genetically engineered apple. The OCA is getting around 1,000 signatures a day on its website petition.