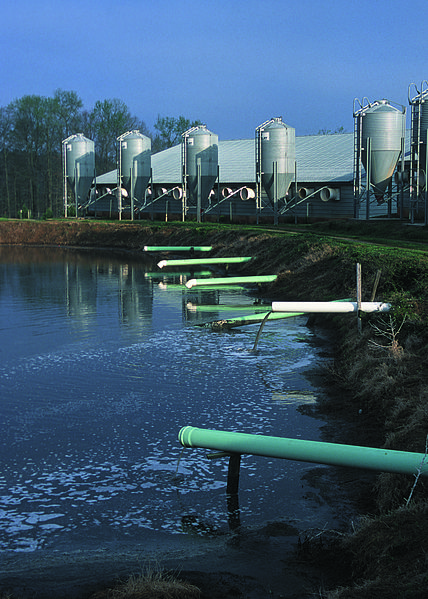 Touch the Soil News #543
The Waterkeeper Alliance in collaboration with the Environmental Working Group just finished its review of Hurricane Matthew's rampage through North Carolina's coastal plain last month. The massive rains flooded more than 140 feces-strewn swine and poultry barns, more than a dozen open pits brimming with hog waste and thousands of acres of manure-saturated fields. The storm killed an estimate 5 million chickens and turkeys and thousands of hogs.
Hurricane Matthews' floodwaters surge through a chicken CAFO, carrying pathogens and other pollutants downstream and ultimately into the ocean (photo courtesy of Waterkeeper Alliance).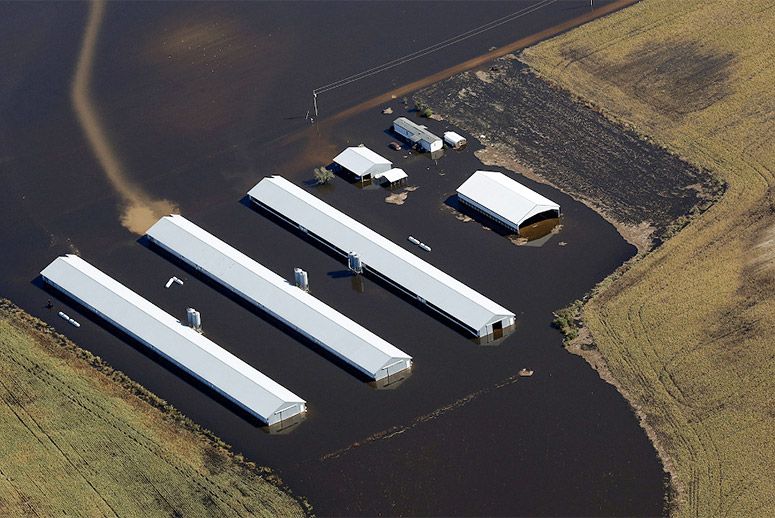 The review of the risks associated with having CAFOs (confinement animal feeding operations) in the coastal plains of North Carolina poses not only immediate risks from Hurricane Matthews. The CAFOs in the 47 counties in the larger coastal plain generate more than 9 billion gallons of liquid animal waste and 193 million pounds of dry animal waste each year.
The wet animal waste is largely produced by hog CAFOs often stored in unlined open-pit waste lagoons. In addition to being breached by unanticipated hurricanes, much of the hog waste is spread onto nearby fields with drain ditches leading to nearby waterways.
Following is a short aerial video clip of the breached waters of Hurricane Matthews:
Want More? - Sign up below