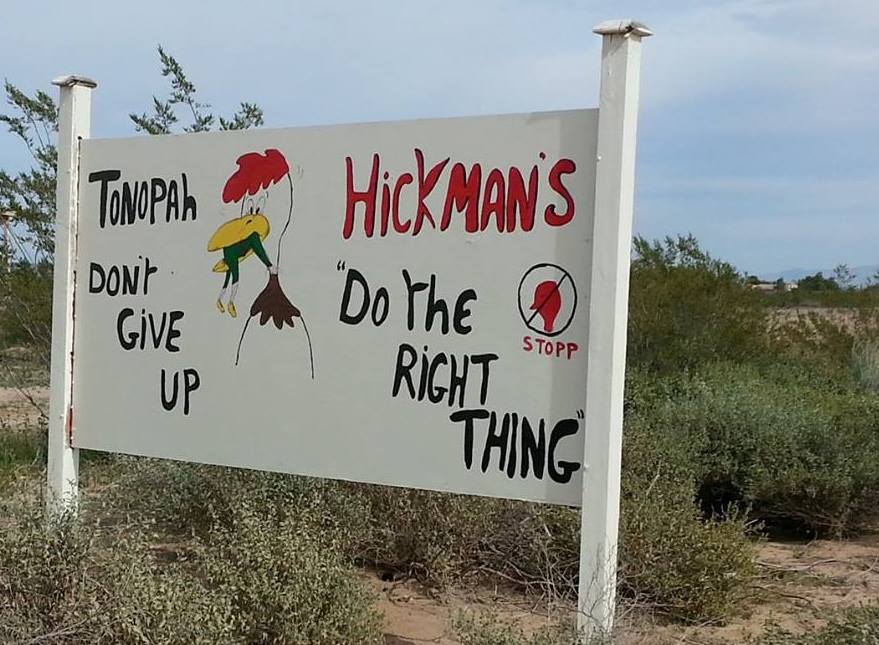 We all love our eggs and they have become a staple of our diets. Our consumption of eggs has increased 8 percent over the last 15 years. However, how many of us would like to live next door to a mega-million bird egg laying facility?
Last spring, Hickman's Family Farms (headquarters in Buckeye, Arizona) announced that it was locating a mega egg-laying facility in Tonopah, Arizona. Fifty miles west of Phoenix, the proposed facility is barely a couple of blocks from residential areas.
The bulk of the community turned out in protest and resistance. The locals fear breaches of waste, contamination of underground water sources, strong odors, and blowing chicken-feather debris. Forget the jobs, they don't want the alleged 100 or so semis that will ultimately frequent this small town of 3,000 every day.

Tonopah is blessed with natural hot water springs and the name Tonopah actually means "hot water under a bush." The residents have organized under the banner of STOPP – Save Tonopah Oppose Poultry Plant. The community is reaching out to the larger world to help finance a lawsuit. The STOPP effort has put up a short video on their web site: "What a Load of Chicken Chit." The video has been uploaded here.   http://tonopahstopp.com.
According to the West Valley News (8/29/14) a local paper, Hickman's Desert Pride (the name of the new facility), broke ground in February with the first phase to be completed in the spring of 2015. The facility will start with 2.2 million laying hens and eventually work up to 12 million birds on site – one of the largest in the world.
In a special press release from the STOPP organization, it is argued that based on conservative scientific estimates, the annual waste output from a 2.5 million chicken egg operation is enough to create a manure pile 5 feet high, 10 feet wide and 7 miles long. T
This means that, at capacity, the Hickman plant will generate nearly 5 times that amount, producing millions of pounds of animal waste equivalent to a chicken manure wall nearly 35 miles long.
One of the points of concern is that an owner of Hickman's Family Farms is a Maricopa County Supervisor (the county Tonopah is in). This owners is also the president of the County Supervisors Association from the state's 15 counties.
The folks at Tonopah are up against a giant that has a much larger giant behind them. Let me explain. Watt Global Media reports that Hickman's Family Farms is the 12th largest egg producer in the United States with 7.3 million laying hens. Last August (2014) Hickman's entered into a joint venture with the nation's largest egg producer Cal-Maine Foods. Cal-Maine has 34.2 million laying hens and controls 23 percent of the nation's egg market. Plans are to expand marketing in Arizona.
To be continued…
Want More? - Sign up below