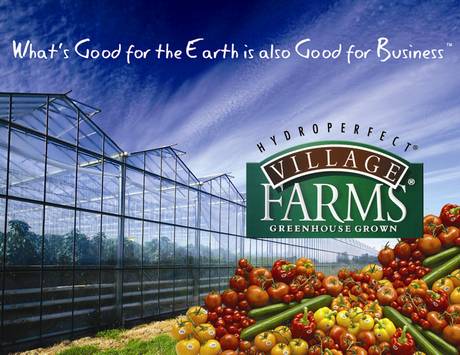 Touch the Soil News #170
Village Farms is one of the world's largest greenhouse fresh-produce operations with some 250 acres of greenhouses under food production – tomatoes, cucumbers, peppers and eggplant. CEO Mike DeGiglio in a recent video explains that in the 1980's only 1 percent of retail tomatoes came from greenhouses. Today roughly 80 percent of retail tomatoes come from greenhouses.
Awsome is the reaction to these super-size greenhouses - (photo courtesy of village farms)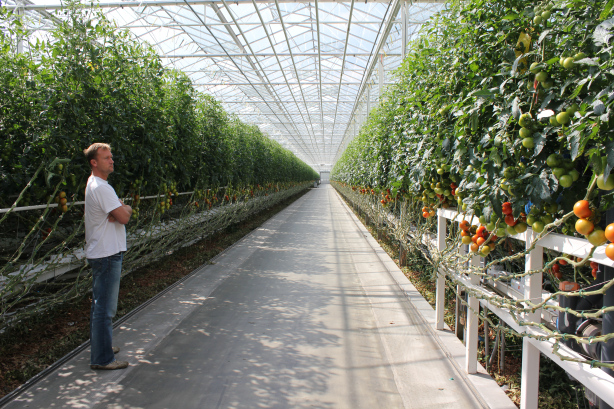 Village farms boasts that its produce ripens on the vine longer, allowing natural sugars to develop and that they have the shortest times from hand-harvest to grocery store.
Recently, Mike DeGiglio was interviewed in the July 2015 issue of Urban Ag News (http://urbanagnews.com). DeGiglio explained that they have, after 25 years in business, achieved sufficient financial prowess to begin their own research and development department. Historically they relied on existing technologies, but are now creating their own technologies.
Most of Village Farms' technology is in software design to control the internal environment of the greenhouse. The idea is that if you can once perfect the "inside" environment, you can locate greenhouses not where it might be best for plants, but best for markets, lowering freight costs and access to labor. Optimal "inside" environments also increase product shelf life and product quality.
Looking to the future, Village Farms is looking at alternative energy to lower energy costs and supplementing carbon dioxide to the plants.
When asked about vertical farming, DeGiglio also explained it is still in the R&D phase as the capital and operating costs are huge. Vertical farms must focus on crops that can be turned quickly in 28-30 days to achieve financial stability. Village Farms' greenhouses, for example, cost approximately $2 million per acre.
Village Farms has put out a couple of videos (see below) that are interesting in both their size of operations and the technologies used.
Want More? - Sign up below