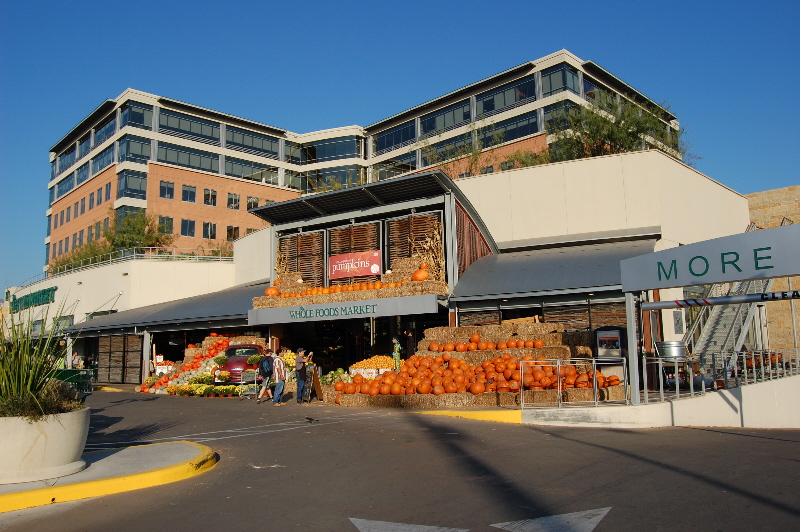 Touch the Soil News #669 (Feature photo CCA SA 3.0)
Back in 1978, John Mackey (co-founder of Whole Foods) borrowed $45,000 from family and friends to open a small natural foods store called SaferWay in Austin Texas. When Mackey was evicted from his apartment for storing food products in it, he moved into the store, using a water hose attached to the dishwasher to take a shower.
In 1980, SaferWay merged with Clarksville Natural Grocery to create the first Whole Foods Market with a staff of 19. The next year (Memorial Day 1981) a major flood devastated the new Whole Foods Market. The loss was estimated to be $400,000. The tragic event was made worse in that Whole Foods had no flood insurance – it was a total loss.
Miraculously, customers, neighbors and staff pitched in to repair and clean up the damage. In addition, creditors, vendors and investors assisted in helping the store recover. The store re-opened 28 days later. The rest is history as Whole Foods Market emerged as America's first certified organic grocer.
Feeling good about its initial success, the management and original founders of Whole Foods Market began expanding to other cities in 1984. However, with expansion, comes a price. You have to start dancing with big capital. The risk is that the voices of grass-roots consumers, founders, employees and vendors begin to have another voice overlaid on what they created.
Fast forward to 2017. Today, Whole Foods Market has 462 stores with 87,000 employees. Over the past five years, Whole Foods has been opening an average of 30 news stores a year. Today, over 86 percent of the company is owned by the world's largest institutional investors. Out of the "blue" an institutional investor called Jana Partners was able to garner a 9 percent stake in the company – the second largest, behind the Vanguard Group, Inc. Jana Partners, among other things, is looking for a fast buck. Jana Partners is looking to put new members on the board that share its vision and potentially explore the idea of Whole Foods selling itself.
Over the past couple of years, however, net income has slightly decreased. This is during a time when other grocers are also feeling pinched from an economy whose spending is weak. At the heart of the questions is that through gamesmanship, a 9 percent owner of Whole Foods stands some chance of shattering the framework that tens of thousands of employees, thousands of suppliers and millions of customers have given their life energy to.
The issue is that big capital is so anxious for a financial killing, that employees, suppliers and customers may not even have a chance to fight for what they built.
Want More? - Sign up below