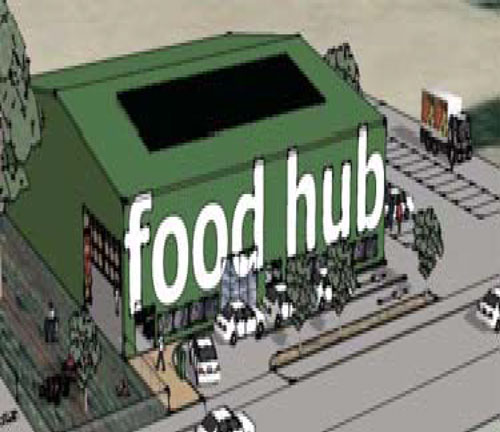 Touch the Soil News # 141
The growing development of food hubs is materially populated with not-for-profit visions that do not seek high returns, but primarily the cash flows necessary to keep the doors open. In Part 2 of this food hub coverage we'll take a brief look at five (5) successful food hubs and their operations. Information about these food hubs came from a research project by the Wallace Center. It is encouraging to see enterprises and communities support a change from the industrial food system.
Red Tomato food hub, Plainville, Massachusetts
Red Tomato has annual sales of approximately $4 million with 7 employees. Red Tomato, established in 1997, now supplies 22 retail chains. An 80-farm network supplies the products that drive the Red Tomato food hub. Red Tomato is famous for its same-day local produce system.
Good Natured Family Farms, Bronson, Kansas
This food hub uses an alliance of over 150 family farms within a 200 mile radius of the Kansas City metropolitan area. The farmers use a common brand that put products in most every store aisle. Good Natured Family Farms works primarily with Balls Food Stores in Kansas. Balls food stores stocks its 28 stores with 45 percent local produce (174 items). Good natured Family Farms has approximately $4 million in annual sale, 9 employees and some 275 branded products.
La Montanita Co-Op Distribution Center, Albuquerque, New Mexico
Established in 2006, this food hub has approximately $4.6 million in annual sales and 8 employees. The La Montanita distribution center (with a 17,000 square foot facility) works with over 1,300 New Mexico producers – a stunning number. Roughly 51 percent of sales from the distribution center go to the parent company La Montanita Food Cooperative. The other 49 percent goes to external accounts including Whole Foods, Bon Appetite and other retail co-ops.
Cherry Capital Foods, Traverse City, Michigan
Established in 2007, Cherry Capital Foods has become the primary supplier of local and regional foods for Kroger's in Michigan. This food hub has approximately $2.2 million in annual sales and 32 employees. Products are sourced from 150 small farms. Cherry Capital Foods has a fleet of 12 refrigerated vehicles and picks up approximately 75 percent of its supply at the producers' locations.
Common Market, Philadelphia, Pennsylvania
Established in 2008, Common Market has annual revenues of approximately $1.7 million and has 17 employees. This food hub sources food from over 75 Mid-Atlantic growers. Common Market has over 200 customers including schools and colleges, retailers, workplaces, restaurants, hospitals, nonprofit organizations and faith-based institutions. Common Market is a non-profit enterprise. The goal of Common Market is to connect wholesale customers to farmers in New Jersey, Pennsylvania and Delaware. Common Market delivers 6 days a week with its fleet of refrigerated trucks.
Want More? - Sign up below