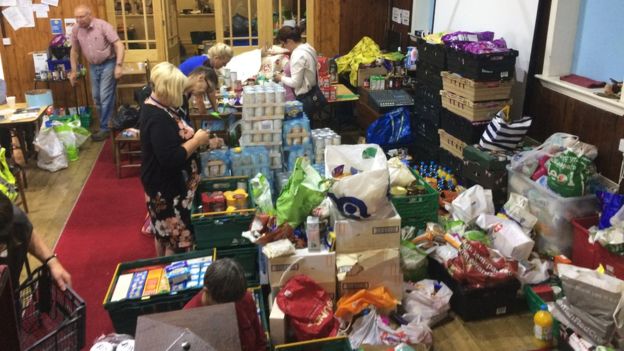 Touch the Soil News #783 (Feature photo courtesy of the Trussell Trust)
In the U.S. we have a habit of covering over and not acknowledging a problem. Take hunger for example. On the economic news front, it is all about how prosperity is returning to the nation. Economic statistics, however, are all about averages – not real circumstances. For example, if my neighbor makes $1 million a year, and three other neighbors only make $35,000 a year, the average for the four households is a robust $276,000 a year. It covers up the truth that three out of the four neighbors lived in poverty.
In the small country of Wales (part of the United Kingdom) food poverty is escalating to dangerous levels. The food banking network in Wales is called the Trussell Trust. The Trussell Trust says the problem is economic in nature and related to low wage levels which are compounded by rising costs of living.
The Trussell Trust says that need for emergency food has increased by 20 percent in just three years. The concern is that while the Trussell Trust likes to view food aid as temporary, the condition has become chronic and permanent. In short, the food bank of Wales is trying to tell its government that the economic system is not working. The Wales government is responding by saying that job creation, more education and improving skill levels are top priorities.
The question one must ask stands in stark contrast: Do the world's largest corporations see themselves responsible for creating more jobs and lifting folks out of poverty?
Want More? - Sign up below