Touch the Soil News #450 (feature logo courtesy of Trussell Trust)
It is hard to tell what the message is when it comes to helping out food-insecure families. Is it about food, or is the universal message about teaching people how to work together?
Holiday clubs are a new form of working together that is emerging in the United Kingdom (UK). The clubs center around helping alleviate issues associated with hunger and an inability of families to do activities on the roughly 170 non-school days a year.
When school is out, 40 percent of parents in the UK worry about the extra costs of paying for childcare, meals that were taken care of in school cafeterias and activities for the children. For parents in the 25-34 age range, it is estimated that 1 in 3 will forgo a meal(s) this summer to feed their children.
Holiday clubs offer a safe haven that provides meals, activities and learning opportunities for families. The activities include dance, arts and crafts, football and circus workshops.
The big name in food banking in the UK is the Trussell Trust. The Trust just initiated a program to help expand holiday clubs around the nation. The Trussell Trust runs a network of 424 foodbanks. It is estimated that over 13 million people in the UK live below the poverty line. The Trussell Trust reports that over the past year, they gave out 1,109,309 three-day emergency food packs to people in crisis (see Info Graphic #1).
Over the past 7 years, the number of emergency 3-day food packs issued by U.K. food banks has increased 4,283 percent while population increased only 3.8 percent. Will access to food push the cooperation paradigm to start including not only those in need, but most everyone?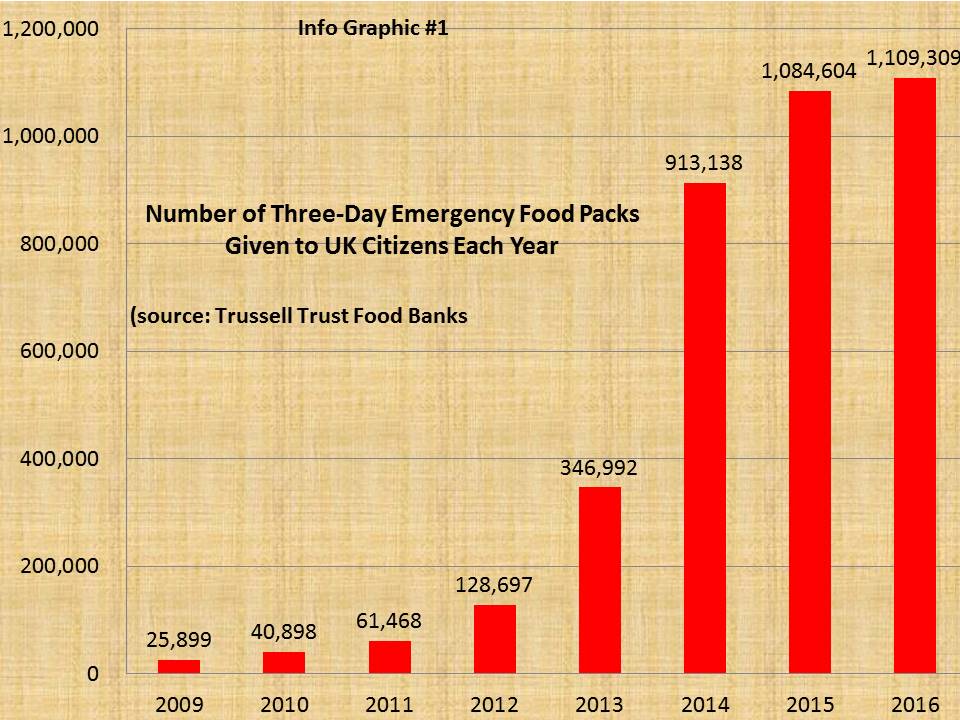 Following is a short video clip on the emerging "holiday club" movement in the U.K.:
Want More? - Sign up below