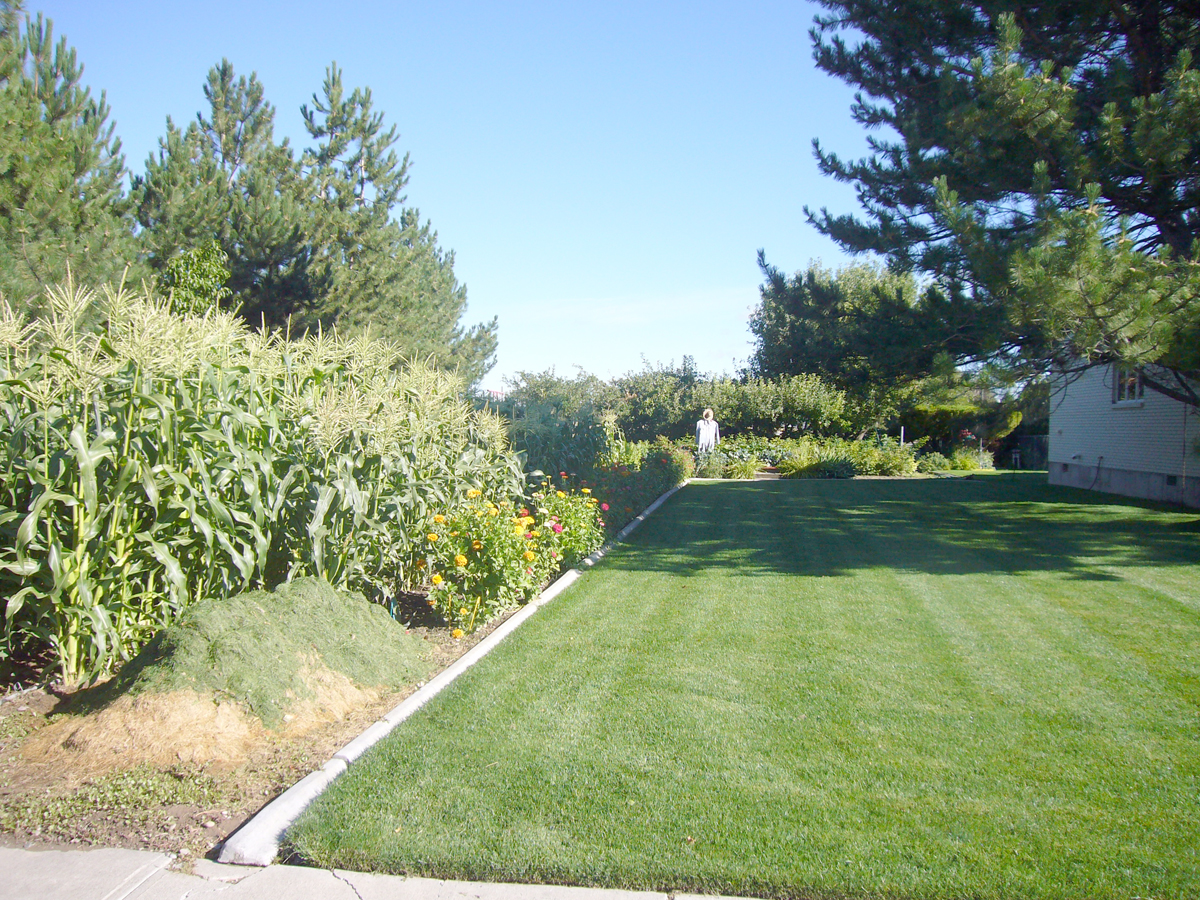 This is a subjective question whose answers swing depending upon the point wanting to be proved. Recognizing these pitfalls, let's give it a try anyway.
It was in Europe during WWII when my mother was a teenager growing up in Switzerland. My grandfather, in order to feed the family of five, walked several blocks each day to tend a small subsistence vegetable garden. The city parks had been plowed and planted into potatoes. When school let out for the summer, my mother was sent out to help a local farmer. While most Swiss urban people did not have a yard, the food value of land with water was equivalent to survival.
The average American lawn is 1/3 acre. Estimates are that around 80 percent of households have a private lawn. Using an average value of $2.50 a square foot, the median lawn value equates to $36,000. To this, we can add the value of a well or city connection to water and plumbing to the outside of the house. The average capital value of a lawn and water are could well exceed $40,000. In upscale neighborhoods it could be more.
A 2007 poll of homeowners by the National Gardening Association revealed yards represented 10 to 19 percent of the value of a home. So, looking at your own circumstances, how much of your capital investments could contribute to some sort of food growing enterprise? Is it $15,000, maybe $25,000?
According to the USDA, the average household (2.69 persons) spends $12,200 (2013) a year on food ($4,500 per person). It takes about 4 acres to produce the typical American diet rich in meat and dairy. If you adopted a plant-based diet, you could theoretically survive on one-half acre.
What might be the annual food production potential of your lawn? A lot depends upon how hard you want to work and change your diet. With the cost of food going up, how much do you think you could raise – $1,500 worth, $3,000 worth? Advances are being made in vertical gardening and season-extending greenhouses which could increase productivity in smaller spaces.
Lawns in America total around 31 million acres. What could Americans grow on 31 million acres? The answer is nothing short of shocking. The USDA reports that the number of acres planted in the U.S. for all the primary "fresh" vegetables is around 3 million acres – just 10 percent of the land that is in lawns. There are 22 different fresh vegetables in the USDA numbers including potatoes, sweet corn, peas, tomatoes, onions, lettuce, beans, peas, broccoli, carrots, spinach, artichokes, cabbage, cauliflower, celery, green peppers, squash, asparagus and all melons.
How much produce could several neighbors raise if they coordinated diversity of crops, pooled resources and work and utilized the latest vertical, greenhouse and season-extending technologies?
The food-value of a lawn is then the sum of the survival value, capital investment that contributes to food-raising, and annual production potential. Perhaps when you have little else to do, you might take out a pencil and tablet and work up a potential food-value for your own lawn. You might even feel rich after you have done so. You might even feel more secure knowing the potential you and your neighbors have.