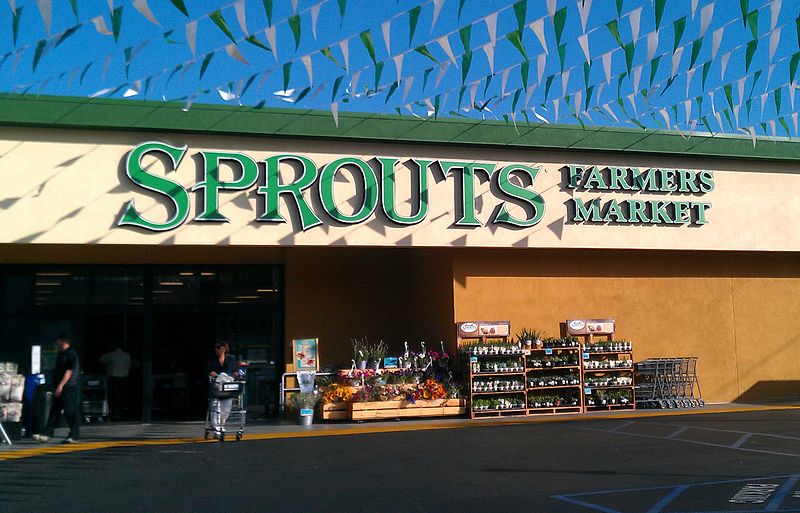 Touch the Soil News #654 (Feature photo – CC SA 3.0)
While we call it the food chain, make no mistake the primary focus of food-chain giants is not food. It's about how much money we can take out of the food businesses.
After many years of consolidating, the stores of Albertson's, Safeway, SuperValu, Acme, Jewel-Osco, Lucky, Shaw's, Skaggs, Seeessel's, Bruno's, Smitty's, Buttrey Food and Drug and Star Market have all been acquired into one company now called Albertsons Companies, Inc. Albertsons Companies Inc. is owned by a capital management firm called Cerberus.
News leaked out recently that Albertsons Companies Inc. is looking at buying Sprouts Farmers Market, Inc. (Sprouts) – an organic natural grocer. Sprouts opened 36 new stores in 2016 bringing their total store count to 253 stores in 13 states. Plans are to open 32 new stores in 2017. Rumor is that Sprouts is worth around $3 billion.
Both Albertsons and Sprouts are struggling with what is called food deflation. Competition is so tough that food prices are down – impacting profits. This is strange in that recently the Federal Reserve Bank said the economy was booming with risks of inflation and raised interest rates. Well, not according to the nation's largest grocers.
So who owns Sprouts? According to recent Nasdaq releases, over 94 percent of Sprouts is owned by large institutional investors (some of which manage from $1 to $4 trillion in assets) and some smaller investors including banks such as Chase, Wells Fargo and Bank of New York/Mellon.
The point of this discussion is that most large food businesses are not owned by people who came up through the ranks and run the food businesses – but big capital. This is why when it comes to growth or acquisitions, access to money is no issue, as long as paybacks make more money.
Following is a short video clip on a new Sprouts store opening. What might be the enthusiasm of the Sprouts employees if the event was an announcement of a merger with Albertsons?
Want More? - Sign up below