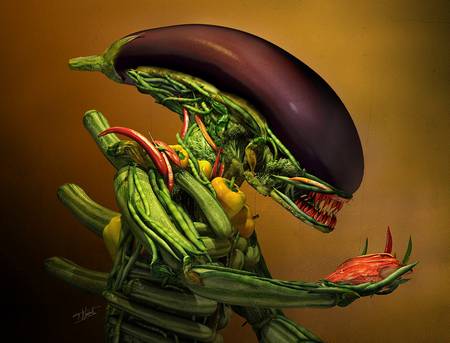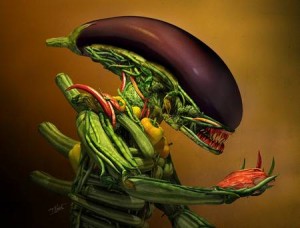 No, Veggie Alien doesn't have much to do with re-growing your own produce . . . but it's neat looking.
But in all seriousness (kinda), what can you do to make your grocery store produce pay you back? Well, there are a few kinds of food which do well with this – Onions, for one. Celery, Bok Choi, Cabbage, Potatoes and Sweet Potatoes, and Garlic to name a few more.
Actually, our own Mad Scientist re-grew some garlic this year, and they are doing fantastic! So really, there are quite a few you can re-grow.
What is the best way to do so? Well, it does sort of depend on which one you are dealing with. Celery, Bok Choi, and Cabbage all need to have the root end placed in a shallow dish. After, of course, you take the stalks. Cover with water so the root is covered, but not the tops. Spray them with water occasionally, let them have some sun. When you see new growth, transplant it with just the leaves above the soil.
Potatoes are super-simple. Put them in the soil and water them. Seriously. Cut them in half first.
Garlic – plant it root-end down, in direct sunlight. Once it's established, cut off new shoots so it focuses on growing one bulb. Onions are pretty well the same. It's not super complicated to do this, which is nice. We recommend our Grow and Bloom Packs for nutrients to help your plants!