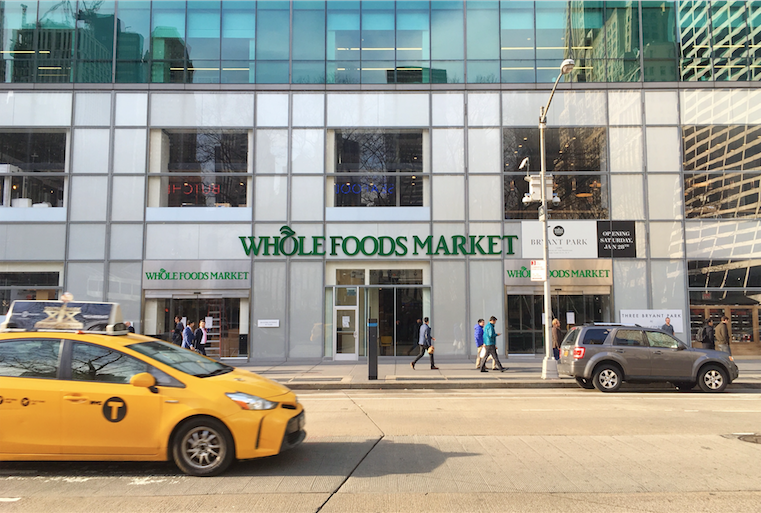 Touch the Soil News #637 (feature photo – Whole Foods Bryant Park – courtesy of Whole Foods)
In a recent Whole Foods press release, they announced the opening of a new flagship store in Bryant Park, New York City's most prominent intersection. While we all know that Whole Foods is a destination for organic produce and clean meats, seems the grocer is going far beyond the traditional grocery store model.
Whole Foods is going all out to attract "restaurant" customers, bar customers with alcoholic drinks and an assortment of other prepared food specialties. But that is not all; they are going to have a "Produce Butcher."
Here are some of the features of their new 43,000 square foot store.
The store will host an upscale Italian restaurant with noted chefs of local fame.
There will be a Genji Sushi bar that will offer traditional Japanese omakase.
There will be a Harbor Bar. This raw bar will offer oyster towers, lobster rolls and seafood-centric small plates. The bar will also offer 24 beers on tap, draft wine and a full cocktail menu.
A dedicated Seed + Mill franchise that offers specialty deserts and other exotic offerings.
Quick Service Kiosks. For fast food and folks in a hurry there will be a digital ordering kiosk for things like Italian sandwiches, hot (spicy) chicken, Jewish sandwiches, and East Indian cuisine.
A pizzeria that offers square pizza pies with seasonal toppings.
An artisanal "toast" market inside the bakery department that provides things like avocado toast, almond butter and jam, stone-ground mustard and mixed greens, etc.
A coffee and juice bar called the "News Agency".
A "Produce Butcher" – an onsite team member who will cut, slice, dice, julienne, chop and grate any produce item a shopper might request. There is a fee for this service.
Whole Foods is marketing its new store as Manhattan's newest dining destination. To compete for the nation's $1.5 trillion food dollars, seems that blurring the lines between a grocery store and a restaurant is the new trend.
Want More? - Sign up below