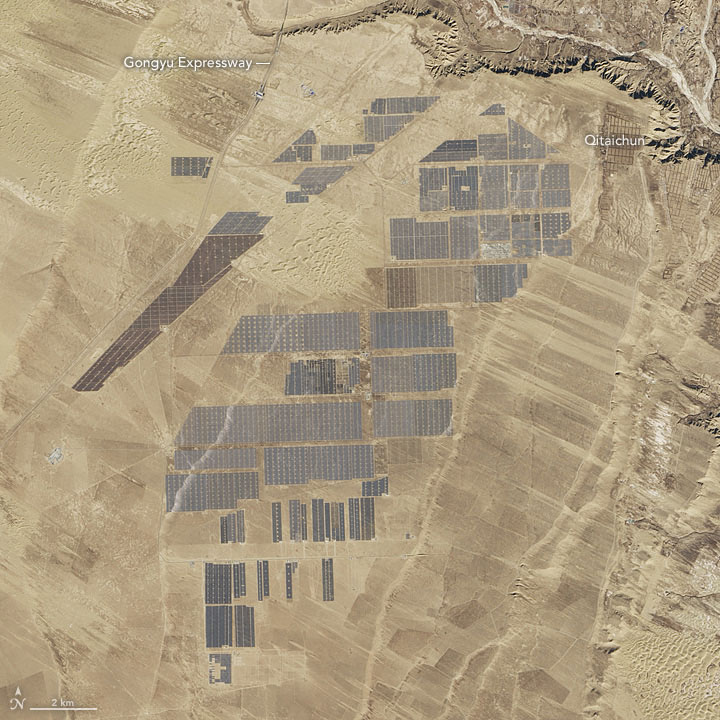 Touch the Soil News #645 (Feature Photo – NASA Earth Observatory)
Forty years ago (1977) the cost of solar was $76.67 per watt. Today, its less than 50 cents per watt – 153 times cheaper. Recently, while flying over Eastern China, a NASA satellite took the picture above.
What you are looking at is the world's largest solar farm consisting of approximately 4 million solar panels and covering an area of 10 square miles (6,400 acres). This solar farm has the capacity to generate 850 megawatts – just shy of the standard 1,000 megawatt nuclear power plant. This solar farm can power about 140,000 homes.
China is the world's leader in solar installations. In 2016, China was installing solar panels at a rate of one and a half soccer fields every hour. Following are the solar installation leaders in 2016:
China: 30 Gigawatts – enough to power 4.9 million homes
U.S.:      13 Gigawatts – enough to power 2.1 million homes
Japan: 10.5 Gigawatts – enough to power 1.7 million home
India:  4.2 Gigawatts – enough to power 700,000 homes
All in all, the world installed 76 Gigawatts of solar panels in 2016, enough to power 12.5 million homes. Is it possible that as the price of solar continues to decline, and the efficiency of solar cells continues to escalate, that cheaper energy is in our future? Energy cheap enough where every city in the northern climates will have massive greenhouses – maintained by cheap solar energy – to feed us?
Want More? - Sign up below