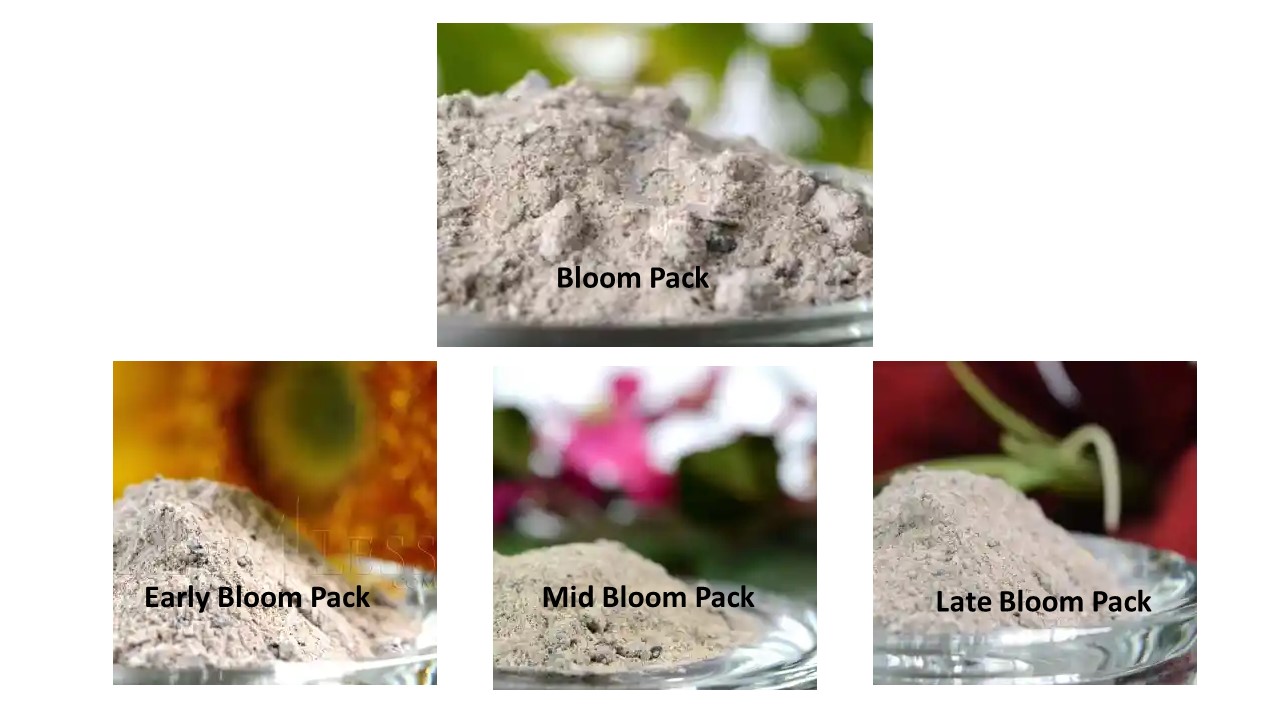 Touch the Soil News / Product Review #103 (Feature Photos  – Bloom Packs  – (Kelp4Less)
Every stage of a plant's growth demands a specific, balanced mix of nutrients and minerals. Flowering is busy; a period when plants direct all of their energy and resources away from overall growth and focus on producing the best flowers and fruits possible, and thus has its own specific nutrient needs.
The bloom (flowering) stage of a plant's growth can also be broken down into three mini-stages – Early, Mid and Late Bloom. By using the correct flowering additives at the right time, you can work with the plant's natural growth rhythm to achieve phenomenal results.
Early stage is when the plant goes through the transition from vegetative to bloom (flowering)
Mid stage is when plants switch into full flower mode.
Late stage is when fruits ripen and mature. This is when fruit-bearing plants experience the most growth and weight gain.
Kelp4Less offers an overall Bloom pack for all stages of flowering, or for the more experienced and meticulous growers and Early, Mid and Late stage pack. When plants get into their flowering and fruiting stages, you can super-charge development with Kelp4Less Bloom Pack(s).
The Bloom Packs consist of the broadest spectrums of fertilization, plant health and micro and macro nutrients for any Bloom regimen. These Packs embody the collective "intelligence" of decades of practical experience. All ingredients in these Packs reflect the same high standards of product-sourcing that define other Kelp4Less products.
As with other products, Kelp4Less has received feedback through customer reviews:
"The Bloom Pack is pure magic."
"I tried the Grow and Bloom Pack. My bloom tent (tomatoes) used to hold 5 plants. I do not think I can fit more than 3 plants"
"I've been using the Bloom Pack for several years, and I cannot recommend a better all-around product for flowering all plants."
Bloom Packs provide all the essential elements and enhancers in one easy-to-use product.
Link to Bloom Pack product page:  https://www.kelp4less.com/shop/bloom-pack/
Link to Bloom Pack customer reviews: https://www.kelp4less.com/shop/bloom-pack/#reviews