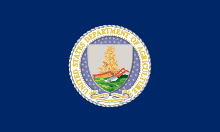 Positive Future #475 (Feature photo – USDA Seal – public domain)
Agri Pulse journalist Sara Wyant uses the term "staggering losses" to explain what is going on in China and Asia as relates to losses of pigs due to the African Swine Fever. If you are a small local pig farmer and serving local markets – this is something worth following.
So what might be a positive upshot to the African Swine Fever? If it brings the world to think more about food than war and political infighting.
Word is out that the Chinese consumers are already looking to other proteins to start filling the gap. Considering that there are 1.4 billion people in China, the domino effect on prices will most likely reach the U.S. You can read the full story here: https://www.agri-pulse.com/articles/12225-african-swine-fever-staggering-losses-with-impacts-for-years-to-come