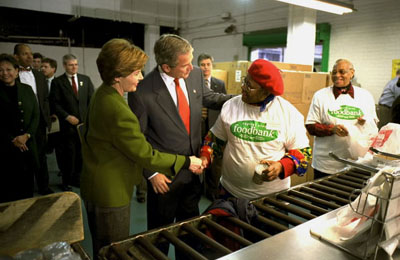 Touch the Soil News #1999 (photo – President Visits Capital Area Food Bank – (Public Domain)
Food Bank News bring new insights into Food Banking that include accelerating "Food as Medicine" programs. Through this program the Food Bank provides healthy food over long periods of time to people fighting diet-related diseases.  In addition, the Food Bank is also focused on integrated approaches to addressing poverty – the primary cause of hunger.
In addition to these focuses on health and poverty, the Food Bank also has programs focused on Farm to Table, Food Bank Garden, Food and Health Program, Food Education Program, Food Skills Program and Food Access Program.
Could this operational model the Food Bank has developed, be a functional business operating model for an urban farming enterprise?  Especially for folks looking to do the same in their lives.
You can read the full story here:
https://foodbanknews.org/capital-area-food-banks-4-point-plan-for-food-security/